Part 1 / Teil 1: General Information / allgemeine Informationen
Part 2 / Teil 2: Fronts / Vorderteile
Part 3 / Teil 3: Sleeves and collar / Ärmel und Kragen
The sewing pattern is available via Etsy. Das Schnittmuster ist über Etsy erhältlich.
Now the shirt is already finished, just the buttonholes and buttons are missing. An 1830-60 shirt has three vertical buttonholes at the button tab and one vertical buttonhole at the collar. If you prefer e detachable collar instead of a stock collar you have to make small vertical buttonholes on both collar sides and one vertical buttonhole at the center back of the collar. The collar will be attached with collar studs.
Das Hemd ist nun beinahe fertig, es fehlen nur noch Knopflöcher und Knöpfe. Ein 1830-60er Hemd hat klassischerweise drei senkrechte Knopflöcher am Vorderteil und ein waagrechts am Kragen. Soll ein abnehmbarer Kragen anstatt einer Halsbinde verwendet werden, so wird am Kragen beidseits ein kleines waagrechtes Knopfloch eingenäht, sowie ein kleines waagrechtes Knopfloch an der hinteren Mitte. Der Kragen wird dann mit Hilfe von Kragenknöpfen befestigt.
However, how to sew a buttonhole by hand? First mark the position of your buttonholes, they should be about 1/16" -1/8" (2-3mm) longer than the diameter of your button. I know, it isn´t historically accurate, but I prefer to add some Fray Check along the marked cutting line. First it prevents the fabric from fraying, second is stabilizes the edges for easier sewing. Let´s start! Cut open the buttonhole with scissors, better with a punching tool.
Aber wie näht man nun ein Wäscheknopfloch mit der Hand? Zuerst die Position der Knopflöcher markieren. Die Löcher sollten 2-3mm länger als der Knopf sein. Ich weiß, dass es alles andere als historisch korrekt ist, aber ich behandle die Knoplöcher vor dem Aufschneiden mit etwas Fray Check. Es verhindert einerseits das Ausfransen der Kante und gibt dem Knopfloch andererseits etwas Stabilität für leichteres Nähen. Los geht´s! Die Löcher werden mit einer Schere, besser mit einem Knopflocheisen aufgeschnitten.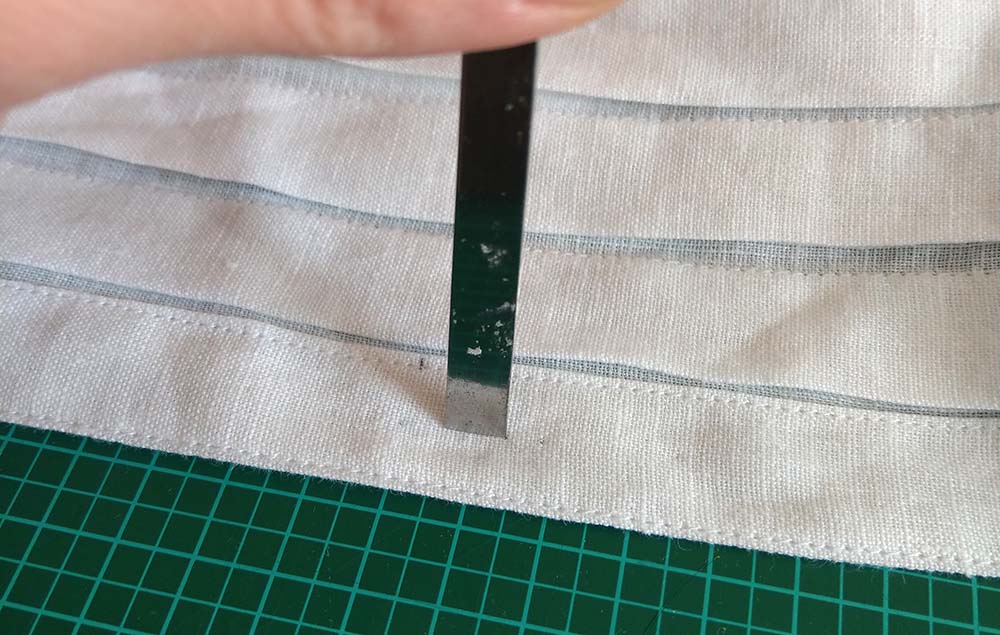 Weiterlesen →