Until now I didn´t find understandable instructions for sewing pockets in men´s trousers. Jason Maclochlainns book "The victorian tailor" was a mystery for me, but after I found this article in "The cutter and tailor" Forum it worked!
http://www.cutterandtailor.com/forum/index.php?showtopic=406
Bisher hatte ich noch keine verständliche Nähanleitung für Taschen in Herrenhosen des späten 19.Jhdts. gefunden. Das Buch von Jason Maclochlainn "The victorian tailor" ist diesbezüglich für mich ein Buch mit sieben Siegeln. Nachdem ich jedoch folgenden Artikel im "Cutter and Tailor" Forum gefunden hatte ging es besser!
http://www.cutterandtailor.com/forum/index.php?showtopic=406
---
After basting on linen straps for reinforcing the pocket mouths sew pocket facings to topsides and undersides of the trousers, right sides together. Start and stop sewing exactly at markings for the pocket opening. At the topsides turn inwards the facing and press (you should not see the seam from the topside). Press open seam allowance at the undersides.
Zuerst wird der Bereich des Tascheneigriffes mit Leinenstreifen verstärkt, danach werden die Taschenbelege rechts auf rechts an Vorder- und Hinterhose genäht. Die Naht beginnt und endet genau an den Markierungen für den Tascheneingriff. An der Vorderhose wird der Beleg in die Hose gelegt und die Kante so gebügelt, dass die Naht von der Oberseite nicht sichtbar ist. An der Hinterhose wird die Nahtzugabe auseinander gebügelt.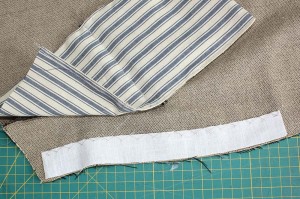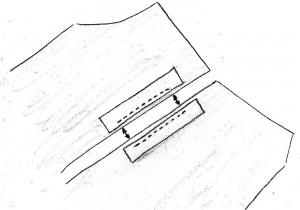 ---
Fold both facings to the side and close side seams, stop sewing slightly above and inside (1-2mm) from the seam, don´t catch facings while sewing. Press open seam allowances and fold facings towards topsides.
Beide Belege zur Seite falten und die Seitennähte schließen, die Naht endet minimal ober und innerhalb (1-2mm) der Belegnaht, die Belege beim Nähen nicht mitfassen. Nahtzugaben auseinander bügeln und die Belege Richtung Vorderhose legen.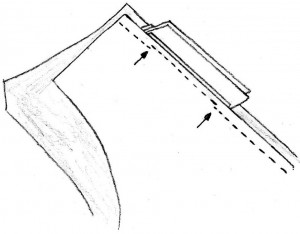 ---
For pocketing cut two pieces about 35cmx35cm. Fold pieces in half, left sides together. Mark pocket opening, the pocketing must reach the waistband to be fixed there and shape the pocketing at the bottom. Now sew along the bottom edge about 5mm from the edge, stop at mark for the opening. Notch seam allowance at end of the seam and turn inside out. Press seam and sew again along the bottom edge about 7mm from the edge. At the opening fold front seam allowances from notch to top to the outside, the back seam allowance to the inside.
Für die Taschen zwei Stücke 35cmx35cm zuschneiden. In der Mitte links auf links falten. Tascheneingriff markieren, die Tasche muss oben bis an den Bund reichen um hier befestigt zu werden. Unterhalb des Eingriffes den Taschenbeutel abrunden und 5mm neben der Kante zusammennähen. Am Nahtende die Nahtzugabe einknipsen und wenden. Bügeln und nochmals ca. 7mm neben der Kante nähen. Im Bereich der Öffnung bis zur Oberkante die Nahtzugabe an der Vorderseite nach außen falten, an der Rückseite nach innen falten.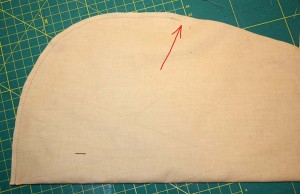 ---
Take your trousers legs and place them on a table, left side up. Fold and pin back the pocket facing of the undersides. Slide pocketing underneath the front facing, edge of the pocketing between seam allowance of the topside and the facing. Join facing and pocketing with a felling stitch, first at the edge between the seam allowances, then all along the raw edges of the facing, covering the raw edges at the same time (I used a quite fraying fabric so I decided to serge all raw edges before sewing, sorry, I know that´s not period sewing although overlock stitching was invented by the Merrow Machine Company in 1881).
Die Hosenbeine mit der Innenseite nach oben auf den Tisch legen. Der hintere Taschenbeleg wird in die Hinterhose gefaltet und dort festgesteckt. Der Taschenbeutel wird unter den vorderen Beleg geschoben, die Kante kommt zwischen der Nahtzugabe von Beleg und Vorderhose zu liegen. Der Beleg wird mit einem Staffierstich an den Taschenbeutel genäht, zuerst zwischen den Nahtzugaben, dann rund um den Beleg, der damit gleichzeitig versäubert wird. (Ich habe einen sehr fransenden Stoff verwendet und mich daher entschieden die Kanten vor dem Nähen mit der Overlock zu versäubern, ich weiß, das ist nicht ganz historisch korrekt, obwohl der maschinelle Overlockstich bereits 1881 von der Merrow Machine Company erfunden wurde.)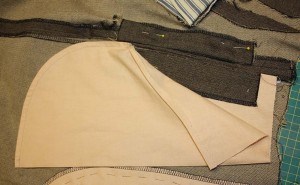 ---
Lay the back facing and seam allowance of the back facing inside the pocket and place the pocketing on top. Baste in place and join with a felling stitch as you did before with the front facing. Baste top of the pocket to the waistband canvas.
Der hintere Beleg und dessen Nahtzugabe werden in die Tasche gefaltet und der Taschenbeutel darüber gelegt. Heften und mit einem Staffierstich miteinander verbinden, so wie zuvor beschrieben. Die Oberkante der Tasche wird am Bund an der Einlage locker mit einigen Stichen befestigt.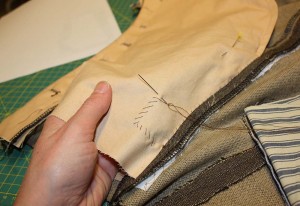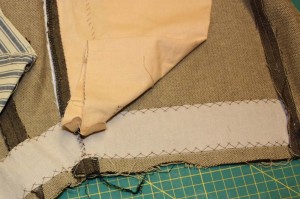 ---
Turn to the right side and press pocket mouth again. Sew about 5mm from the front edge with a pick stitch. Bar tack at top and bottom of opening.
Hosenbeine auf die rechte Seite drehen und den Tascheneingriff erneut bügeln. Ca. 5mm neben der Vorderkante mit punktförmigen Stichen die Kante fixieren. Tascheneingriff oben und unten mit einem Riegel sichern.