Preparing for the WGT 2019 I bought some meters of a brown striped taffeta fabric. It was mentioned to become a coat and trousers for my husband. But when I was finished, I still had 6m of that fabric left. First I was thinking of a steampunk inspired bustle dress, but reflecting this idea several days I decided to make a 1780´s Redingote dress matching with my husband´s 1780´s suit.
Für das WGT 2019 wollte ich meinen Mann ordentlich einkleiden und habe somit mehrere Meter braun gestreiften Taft eingekauft. Nachdem ich ihm eine 1780er Jacke und Hose genäht habe, blieben noch ca. 6m von diesem Stoff übrig. Erst wollte ich ein Steampunk inspiriertes Tornürenkleid daraus nähen, aber nach einigen Tagen nachdenken, habe ich mich für ein zum Mann passendes 1780er Kleid entschieden.
---
As usual I tried to make lots of pics during the sewing process and as I really love the dress, it became the first sewing pattern for a series of 18th century patterns. Please don't be impatient, I´ll try to launch some of the new patterns this year (including some men´s patterns).
Wie immer habe ich versucht während des Nähens so viele Fotos wie möglich zu machen und da ich das Kleid wirklich liebe wurde es das erste Schnittmuster meiner neuen Schnittmusterserie des 18. Jahrhunderts (bitte nicht ungeduldig sein, ich versuche noch dieses Jahr ein weiteres Schnittmuster zu veröffentlichen, folgen wird auch Herrenkleidung).
---
This tutorial should help to facilitate the sewing process of the Redingote, some things will be slightly different as described in the sewing pattern. Pictures and a tutorial for the petticoat are missing.
Dieses Tutorial soll euch auch helfen, das Schnittmuster leichter zu verstehen und nachzunähen. Einige Dinge sind jedoch etwas anders, als dann später im Schnittmuster beschrieben. Bilder und eine Anleitung zum Unterrock fehlen.
---
Here you see the bodice from lining, all parts sewn together and the seam allowances pressed open. Every seam is covered with a boning channel, I made mine from twill tape. The side seams are curved, filling that channels with plastic boning serves, but with a stronger bend I´ll recommend not to follow the seams anymore. Let the channel run straight towards the shoulder seam.
Hier ist das bereits zusammengenähte Futter zu sehen, die Nahtzugaben sind bereits auseinander gebügelt und jeder Saum mit einem Tunnel versehen. Ich habe ein Nahtband dazu verwendet. Die Seitennaht ist deutlich gebogen, mit Plastikfischbein gefüllt ist das in Ordnung, nur sollte die Seitennaht noch stärker gebogen sein, ist es besser die Tunnel Richtung Schulternaht gerade aufzunähen.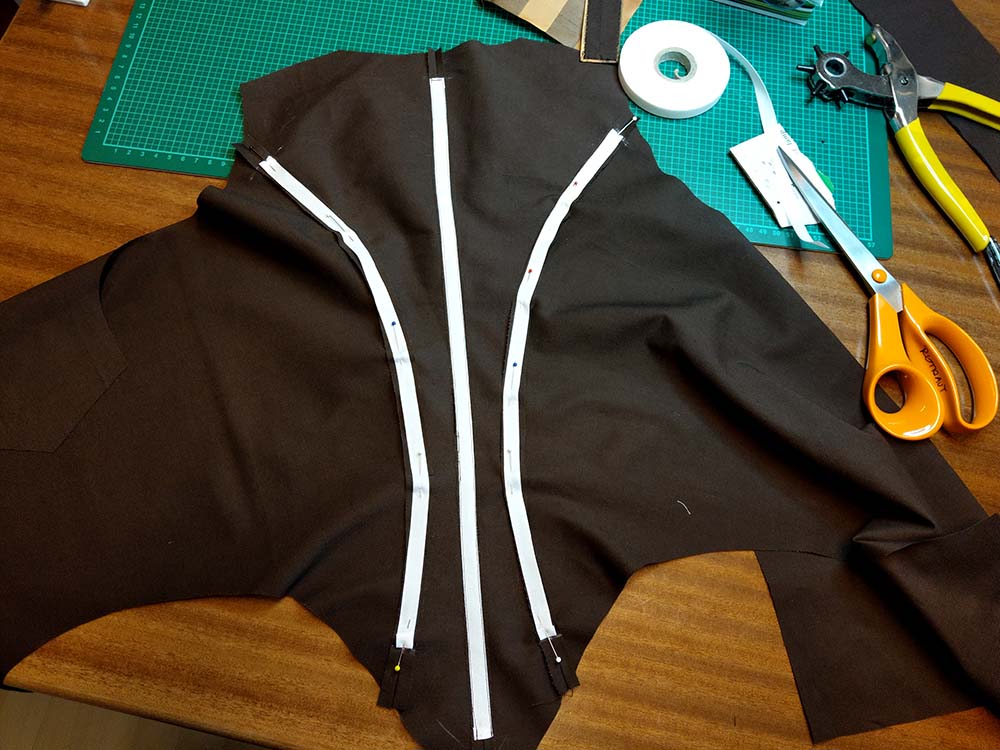 Weiterlesen