I finished my Romantic Era dress already two years ago, but there was still was something missing: a bonnet.
For the construction of the pattern take a wig head and build the form of the bonnet with paper. Then trim the paper where needed or ad paper with adhesive tape. If the bonnet has the desired shape, copy the pattern and adjust asymmetries. Build the bonnet once again from paper or board and do last adjustments if needed.
Mein Biedermeierkleid ist bereits seit zwei Jahren fertig, es fehlte aber noch eine passende Kopfbedeckung: eine Schute
Für den Schnitt an einem Perückenkopf aus Papier grob die Form der Schute erstellen. Dann wird das Papier je nach der gewünschten Form zurückgeschnitten, oder mit Klebeband fehlende Stellen ergänzt. Wenn die Schute die gewünschte Form hat den Schnitt abzeichnen und Asymmetrien ausgleichen. Den Hut nochmals aus Papier oder Karton zusammenkleben und wenn nötig letzte Korrekturen vornehmen.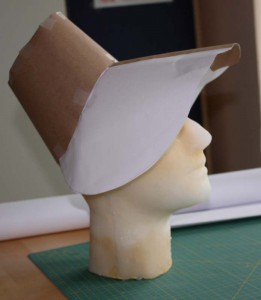 ---
Now cut the pieces from buckram. I  use round reed instead of wire to strengthen the seams because I think it keeps the shape better.
Sew the reed with a zigzag stitch at the edges, the brim is reinforced with additional bars of reed.
Now join all pieces by hand.
Jetzt werden die Teile aus Steifleinen oder Buckram zugeschnitten. Ich verwende hier keinen Hutdraht sondern Peddigrohr zur Verstärkung der Nähte und des Schirmes, da es meiner Meinung nach die Form besser hält.
Das Peddigrohr wird mit einem Zickzackstich entlang der Kanten aufgenäht, die Krone wird zusätzlich mit einigen Streben verstärkt.
Nun werden die einzelnen Teile mit der Hand zusammengenäht.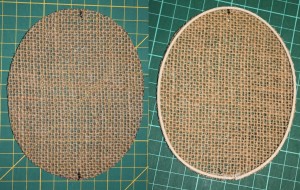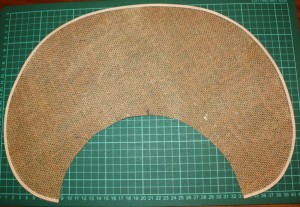 ---
Cover the bonnet with flannel fabric, so later you won´t see the raw buckram through your top cloth.
Cover the hat with your desired top cloth e.g. Silk taffeta, decorate as desired.
Damit das Steifleinen später nicht  durch den Oberstoff sichtbar wird die Schute mit Flanell oder Molton beziehen.
Den Hut mit dem gewünschten Oberstoff beziehen und nach Belieben dekorieren. Fertig!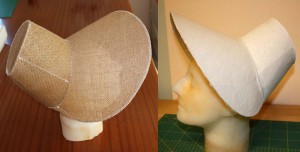 ---
Do you think constructing the pattern by yourself is quite complicated? Visit my Etsy-Shop, there you will find the pattern with detailed and illustrated sewing instructions. A pelerine collar witch was popular during the romantic era is included.
PDF Pattern #0615 Romantic Era Bonnet and Pelerine
Ist euch das Erstellen des Schnittes zu kompliziert?  Hier geht´s zu meinem Etsy-Shop. Dort findet ihr das Schnittmuster, inkl. einer Pelerine wie sie im Biedermeier gerne getragen wurde, mit einer ausführlichen bebilderten Nähanleitung.