This year we do again our history Sumer retreat. This time near Leipzig. As costume theme the romatic era would be suitable.
During the last years I made two Dresses for me, just a suit for the Gentleman is missing.
Let´s start with trousers. After some research it was clear I´ll sew checked trousers with a front fly. From 1830-40 front fall trousers became unfashionable. At the back they have a saddle like Jeans, a gusset and straps.
Unfortunately, I didn't find pictures or anything else about pockets bags. So I decided to make them like Jeans pockets.
  Diesen Sommer fahren wir wieder auf Sommerfrische, diesmal in die Nähe von Leipzig. Als passendes Kleidungsthema bietet sich die Zeit des Biedermeiers an.
In den letzten Jahren sind für mich schon zwei Kleider entstanden, jetzt fehlt noch die passende Kleidung für den Herren.
Los geht es mit der Hose. Nach etwas Recherche war klar, es wird eine karierte Hose mit geknöpftem Schlitz. Hosen wurden ab ca. 1830-40 zunehmend mit Schlitz und nicht mehr mit Hosenlatz gefertigt. Hinten hat sie einen Sattel wie bei einer Jeans, einen eingesetzten Keil und einen Riegel.
Leider gibt es zur Form der Taschenbeutel kein Bildmaterial, daher bekommen sie die Form, wie sie auch in Jeans zu finden sind.
---
Let´s start with the pockets! The back pocket back gets a facing from fashion fabric and is joined to the front pocket back with a French seam.
Sew the front pocket back to the front trousers along the pocket opening, right sides together, trim seam allowances, turn inside out and press.
Mit den Taschen wird auch gleich begonnen. Der hintere Taschenbeutel bekommt einen Beleg aus Hosenstoff und wird mit dem vorderen Taschenbeutel mit einer französischen Naht zusammengenäht.
Den vorderen Taschenbeutel und die Vorderhose entlang des Eingriffes rechts auf rechts zusammennähen, die Nahtzugaben zurückschneiden und wenden. Die Kante bügeln und absteppen.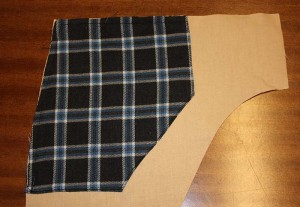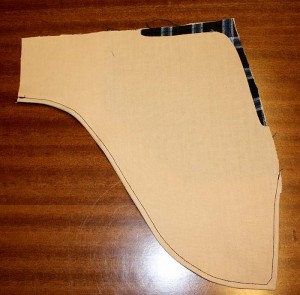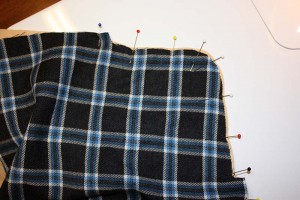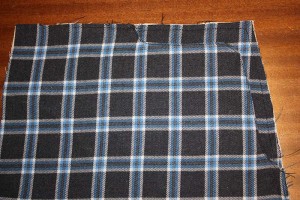 ---
Sew the fly facing to the left front piece, prepare the buttonhole stand and sew five button holes. Pin the buttonhole stand to inside of the left front edge. Sew together with a curved seam from the right side.
Sew button stand to the right front edge.
Am linken Vorderteil den Schlitzbeleg annähen, in die Knopflochleiste Knopflöcher einarbeiten etwas hinter der Vordereilkante feststecken. Die Leiste von rechts in einem schön geschwungenen Bogen annähen.
Am rechten Vorderteil die Knopfleiste annähen.
---
Close pant legs and press. Close the crotch seam. Overcast all raw edges.
Hosenbeine schließen und die Nähte gut bügeln. Die Schrittnaht schließen. Innen alle Kanten ordentlich versäubern.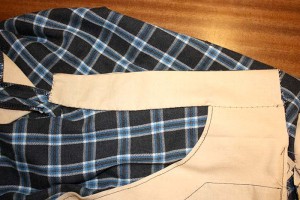 ---
Insert gusset at the saddle.
Am Sattel wird nun der Keil eingesetzt.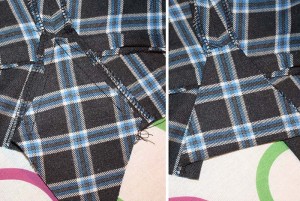 ---
For a clean finish the back seams are covered with a curtain.
Für ein schönes und sauberes Innenleben versteckt ein "Vorhang" die Nahtzugaben des Keils und des Sattels.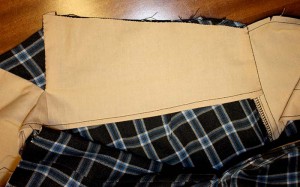 ---
The waistband is divided into two parts with a curved back edge.
Der zweigeteilte Bund ist an der Hinterkante gerundet.

---
Here you see the back straps with the buckle.
Hier der Riegel mit Schnalle.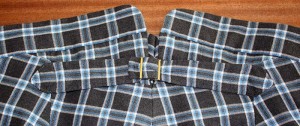 ---
For the hem cut pieces of linen at the bias and baste to the inside along the hemline.
Am Saum wird zur Verstärkung ein Leinenstreifen im schrägen Fadenlauf zugeschnitten und eingeheftet.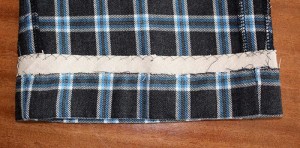 ---
Make button holes at the corners of the pockets, close pockets with small covered buttons.
Die Taschen bekommen in der Ecke jeweils ein kleines Knopfloch, geschlossen werden sie mit einem kleinen überzogenen Knopf.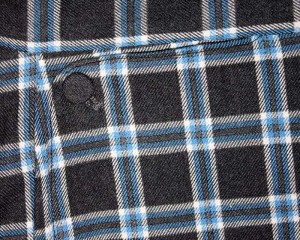 ---
---
Next time I´ll show you the making of the waistcoat.
Nächstes Mal zeige ich das Making-Of der Weste.