When I was a child I often visited flea markets with my mother. She loved grubbing though masses of bedclothes and all that old linen stuff. That times I knew nothing to do with that things. So we have a lot of hidden treasures like old victorian drawers at home. The drawers where overworked though the years, the crotch seam closed and an elastic waistband added.
Als Kind war ich oft mit meiner Mutter auf Flohmärkten unterwegs. Sie liebte es in Bergen alter Bett- und Leibwäsche zu stöbern. Allerdings wusste ich damals mit den Schätzen noch nichts anzufangen. So kommt es auch, dass bei uns zuhause so manche Schätze schlummern, wie eine alte viktorianische Unterhose. Sie wurde im Laufe der Jahre umgearbeitet, die Schrittnaht wurde geschlossen und am Bund ein Gummiband eingenäht.
---
After drawing the pattern and scaling down (the owner must have been quite corpulent) it´s time to sew.
Gather the cotton lace and pin it to the lower edge of the pants legs left sides together. Gather a little bit more at the corners.
Nach Abnahme des Schnittes und entsprechender Verkleinerung (die Dame dürfte nicht ganz schlank gewesen sein), geht es ans Nähen.
Baumwollspitze für die Beinabschlüsse einreihen und links auf link an die Unterkante der Hosenbeine stecken. An den Ecken wird etwas stärker gekräuselt.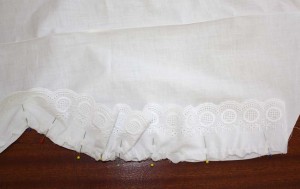 ---
Trim seam allowance and press towards the pant. For casting the raw edges prepare a strip of fabric, fold in seam allowance. Width of the strap is about 1″. Mark edges and fold the strap according to the angle of the corners. Pin strap to the lower edge of the pant covering the seam allowance and topstitch.
Close pant legs with a French seam.
Die Nahtzugabe wird zurückgeschnitten und Richtung Hose gebügelt. Zum Versäubern wird ein Streifen vorbereitet, die Nahtzugaben werden umgeschlagen und gebügelt, die fertige Breite ist dann ca. 2,5cm. Die Ecken werden am Streifen markiert und entsprechend eingefaltet. Der Streifen wird dann so an die Unterkante der Hose gesteckt, dass die Nahtzugabe darunter zu liegen kommt.
Die Hosenbeine werden mit einer fanzösischen Naht geschlosssen und die Schrittnaht mit Schrägband versäubert.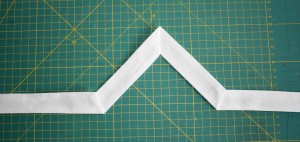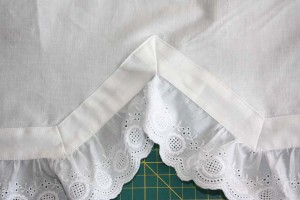 Lay pant legs on top of each other at the front edge and sew together at a length of 4″. Gather along the upper edge and sew to waistband. At the short edges of the waistband insert a twill tape for closing the drawers.
Die Hosenbeine an der Vorderkante aufeinander legen und auf ca. 10cm schließen. Oberkante der Hose einreihen und an den Bund nähen. In die kurzen Kanten des Bundes werden Bänder eingeschoben und festgenäht, so wird die Unterhose dann geschlossen.