My ten-year-old son is a great Pokémon Go fan, and even a greater Pikachu-Fan. Clear that he asked me to sew a Pikachu costume for him. Here we go:
Mein Sohn ist ein großer Pokemon Go Fan, und ein noch größerer Pikachu-Fan. Natürlich kam die Frage nach einem Pikachu Kostüm für den Fasching. Na dann…
Take a real large sheet of paper and trace a Pikachu shape around your child.
Auf ein großes Stück Papier wird die Pikachu Form rund um das Kind gezeichnet.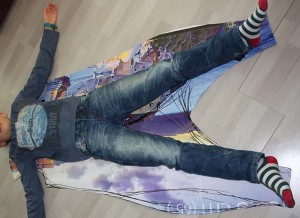 ---
Trace the sleeve like a T-Shirt´s sleeve; keep it wide at the wrist.
Here you see all parts of the pattern; the tail is even at the top for a male Pikachu and would be heart shaped for a female. I stiffened the tail with some interfacing fabric I had at home.
Die Ärmel werden wie T-Shirt Ärmel gezeichnet, am Handgelenk eher weiter. Hier seht ihr alle Teile des Schnittmusters. Der Schwanz ist oben gerade für ein männliches Pikachu und wäre herzförmig für ein weibliches. Ich habe den Schwanz mit Vlies und Watte verstärkt (was gerade zuhause war).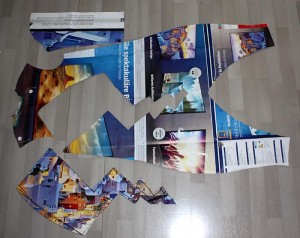 ---
Cut out the back on folded fabric, cut two pieces for the front, ad some extra width for a placket at the center front, close with snap fasteners. Don´t forget the brown stripes at the back of Pikachu. I used felt. Cast the neckline with a neckband. Insert an elastic at sleeves and legs openings.
Das Rückteil wird im Stoffbruch ausgeschnitten, bei den beiden Vorderteilen an der Vorderkante eine Knopfleiste und Beleg zugeben. Geschlossen wird das Kostüm mit Druckknöpfen. Nicht auf die braunen Streifen am Rücken von Pikachu vergessen, ich habe Filz verwendet. An den Halsausschnitt kommt ein Halsbündchen, in Ärmel- und Beinabschluss wird ein Gummi eingefädelt.
---
I made a separate hood; the ears are wadded and sewn to the hood with some stitches. Just painted the ear tips with acrylic paint.
Ich habe eine extra Kapuze gemacht, die Ohren werden wattiert und mit einigen Stichen an die Kapuze genäht. Die Ohrenspitzen sind mit schwarzer Acrylfarbe eingefärbt.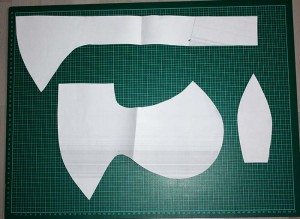 ---
Done! Paint the face yellow  with red cheeks and a black nose.
Fertig! Nur noch das Gesicht gelb mit roten Wangen und schwarzer Nase schminken.