Download the pattern. Print with 100% scale and join the two pattern pieces. The original pattern size is for a 56cm head circumference.
Über die Links können die beiden Schnittteile heruntergeladen werden, auf 100% ausdrucken und zusammenkleben. Die Originalgröße ist für einen Kopfumfang von 56cm.
---
Material needed:
piece of buckram
reed
red wool fabric
lining fabric
tassel (klick for tutorial)
waxed cotton thread
grosgrain ribbon
Material:
Ein Stück Buckram
Peddigrohr
roter Wollstoff
Futterstoff
Quaste (klick für Tutorial)
gewachster Baumwollfaden
Ripsband
---
First cut top and crown from fabric and lining with seam allowances.
From buckram cut top with seam allowance all the way around, the crown without seam allowances at the top and bottom edge, leave seam allowance at the back for joining.
Zuerst Deckel und Krone aus Oberstoff und Futterstoff mit Nahtzugaben ausschneiden.
Den Deckel aus Buckram ebenfalls mit Nahtzugaben ausscheiden, an der Krone die Nahtzugaben an der Ober- und Unterkante abschneiden. Die Nahtzugabe an der Hinterkante bleibt zum Zusammennähen der Krone.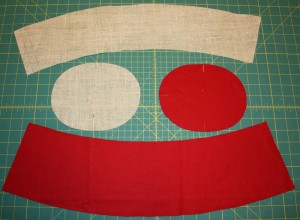 ---
Transfer marks for the reed exactly. Use two rows of reed at the top, stay within the markings that the top fits better inside the crown. The reed can be sewn along the edges by hand or by machine with a zigzag stitch. Shift joints of the two rows for more stability.
Die Markierungen für das Peddigrohr genau übertragen. Am Deckel werden zwei Reihen Peddigrohr aufgenäht. Dabei innerhalb der Markierung bleiben, das sonst der Deckel nicht mehr auf die Krone passt. Das Peddigrohr kann entweder mit der Hand oder der Maschine mit einem Zickzackstich aufgenäht werden. Die Stöße der zwei Reihen Peddigrohr für mehr Stabilität versetzen.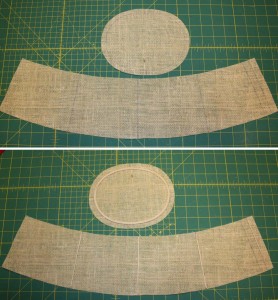 ---
At the crown place four bars of reed then close the crown. The seam has to overlap at center back that you won´t see it later at the finished bonnet, overstitch both edges.  Sew two rows of reed to the inside of the bottom edge of the crown, shift joints as you did before.
An der Krone vier Stäbe Peddigrohr aufnähen und die Krone schließen. Der Saum muss hinten ein Stück überlappen, damit er später unsichtbar wird. Beide Kanten übernähen. Entlang der Unterkante werden zwei Reihen Peddigrohr aufgenäht, die Stöße ebenfalls wieder verschieben. 
---
Clip seam allowance of the top and insert top to the crown. Join with hand stitches with a waxed cotton thread.
Die Nahtzugabe am Deckel einknipsen und in die Krone stecken. Mit einem gewachsten Baumwollfaden aneinander nähen.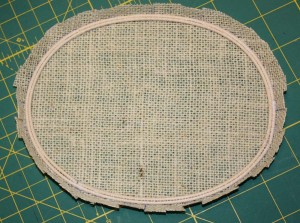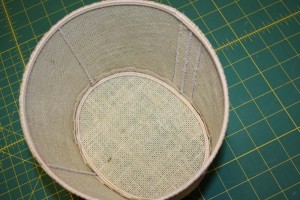 ---
Line up fabric top with the buckram and pin. Close fabric crown at the center back, press open seam allowances. At the top edge fold seam allowance (1cm) towards inside and press. Pin crown to the top respecting marks and sew with small stitches with a matching thread.
Den Deckel aus Oberstoff auf den Buckram legen und feststecken. Die Krone aus Oberstoff an der hinteren Mitte schließen. Nahtzugaben auseinander bügeln. Entlang der Oberkante die Nahtzugabe von 1cm einschlagen und festbügeln. Die Krone auf den Deckel stecken und mit einem passenden Faden mit kleinen Stichen festnähen.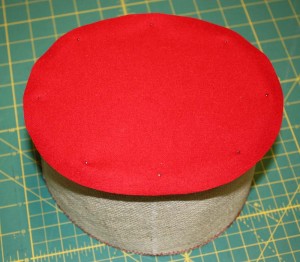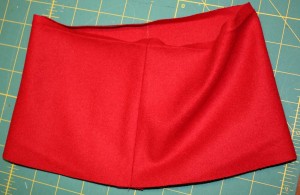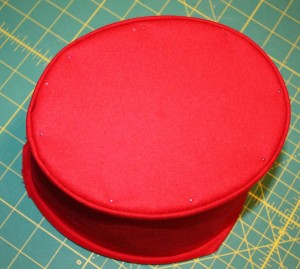 ---
At the bottom edge fold excess fabric towards inside and sew through all layers with nearly invisible pick stitches.
An der Unterkante den überschüssigen Stoff in den Hut legen und mit kleinen punktförmigen Stichen durch alle Lagen festnähen.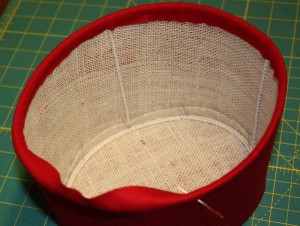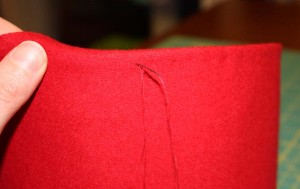 ---
Prepare tassel and sew to the center top.
Quaste vorbereiten und in der Mitte des Deckels festnähen.
---
Sew together the lining pieces and put into the hat, sew along the bottom edge. Place a grosgrain ribbon to the inside of the bottom edge and join with small stitches.
Futter zusammennähen und in den Hut legen, entlang der Unterkante mit eingeschlagener Nahtzugabe festnähen. Ein Ripsband entlang der Unterkante aufstecken und mit kleinen Stichen annähen.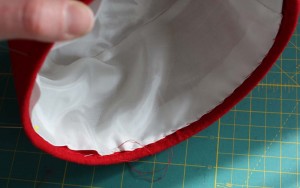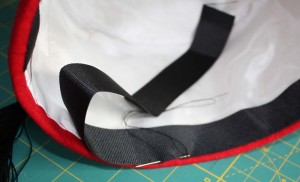 ---
Finished!
Fertig!