Collar and Sleeves / Kragen und Ärmel
I basted together all layers along neckline; that means the basic layer is the top itself, then along the front neckline the interlining and along the back neckline the cotton lining. The seam allowances of the facings are already turned in and the edge basted to the stitching line. I prepared the collar with canvas pad stitched to the fashion fabric. With the hot iron, I stretched the top and bottom edges and pressed in the roll line.
Zur Vorbereitung habe ich alle Lagen entlang des Halsausschnittes zusammengeheftet. Das ist in dem Fall der Oberstoff, am Vorderteil die Einlage und am Rückteil das Baumwollfutter. Die Nahtzugaben des Belegs sind ja schon nach innen gefaltet und die Kante entlang der Nahtlinie festgeheftet. Der Kragen ist hier auch schon fertig vorbereitet, die Einlage mit einem Pikierstich aufgenäht, die Ober- und Unterkante mit Hilfe des Bügeleisens gedehnt und der Reversbruch eingebügelt.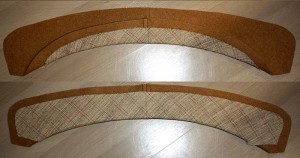 Weiterlesen →