Cut out lining for busk, side part and lacing of coutil fabric with seam allowance, sew to ribbon parts, fold seam allowance to coutil parts and topstitch. It is important not to cut back seam allowance, later on with sewing the tunnels the ribbons will be stabilised.
Aus Coutil die Futterteile inkl. Nahzugabe ausschneiden und an die Bändchenteile nähen, dann die Nahtzugaben in die Teile aus Coutil bügeln und nochmals absteppen. Wichtig, die Nahtzugaben nicht zurückschneiden, durch die Tunnel die später gesteppt werden erhalten die Bänder zusätzliche Stabilität.
Fold upper and lower seam allowance of side and lacing parts to the inside and iron.
Die oberen und unteren Nahtzugaben an Seitenteil und Schnürung nach innen falten und bügeln.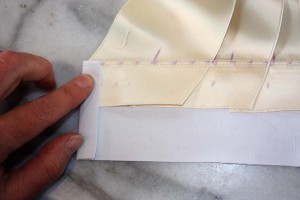 Now cut again parts from coutil which will be faced with your Satin ribbon. Therefore cut side parts without seam allowance at all, lacing part without seam allowance on upper and lower edge, also at the edge for the ribbon part. At the busk part leave seam allowance just at the edge for the ribbon part.
My satin ribbon has a width of 7cm therefore I can cover my side part in one piece. If your ribbon is narrower sew two parts together. Pin exactly to the side part of the corset and topstitch. Leave one edge open (red arrow). Sew tunnels. I made 5 tunnels but only 3 bones will be inserted.
Jetzt werden nochmals Teile aus Coutil zugeschnitten, die dann mit dem Satinband verkleidet werden. Daher werden die Seitenteile ohne Nahtzugaben zugeschnitten, an der Schnürung wird die Nahtzugabe oben, unten und an der Längskante wo das Bänderteil angenäht wird weggelassen. An der Schließe wird die Nahtzugabe nur an der Längskante für das Bänderteil entfernt.
Mein Band hat eine Breite von 7cm, daher kann ich mein Seitenteil mit einem Stück verkleiden. Wenn das Band schmäler als das Seitenteil ist, einfach zwei Bänder zusammennähen. Das Teil genau auf das Seitenteil am Korsett aufsteppen. Eine Kante offen lasse (roter Pfeil).  Dann können die Tunnel gesteppt werden. Ich habe 5 Tunnel genäht, es werden aber nur 3 Stäbe eingeschoben.