In this tutorial I want to show you, how to sew a patch pocket for a Victorian bustle dress. You can see these pockets on several extant dresses, house dresses, as well as walking dresses and of course on fashion plates. But what were these pockets for? Years ago, when I started my sewing pattern business I thought to hold a parasol. But that seems to be wrong. They maybe were meant to hold a handkerchief, a fan or just for decoration, as there are now visible signs of wear inside and outside the pockets on extant dresses. Visit this great article for more details. https://brokecostumer.blogspot.com/2016/02/that-mysterious-pocket.html?fbclid=IwAR1jeTo3wuViCpFIlyFCTMpjn-ph8oKwpQ2yoI_BS6Pv1xu1iKfA3_HBPdA
Draft pattern on a piece of paper, ad seam allowance just at sides.
Zeichne den Schnitt auf ein Stück Papier, Nahtzugabe ist nur auf den Seiten notwendig.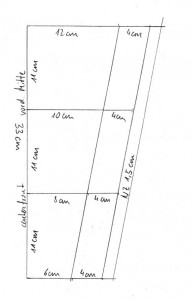 ---
Cut from upper fabric and lining. The two layers will be treated as one. Lower the tension of your upper thread and sew with a long running stitch along the horizontal lines and along top and bottom edge. Shirr fabric, at bottom from 20cm to 12cm, at top from 32cm to 24cm and along the horizontal stitching too.
I decided to add a lace trim before shirring the fabric.
Schneide jeweils ein Teil Oberstoff, ein Teil Futter zu. Die beiden Lagen werden wie eine verarbeitet. Lockere die Spannung des Oberfadens und nähe mit einem langen Geradstich entlang der oberen und unteren Kante, sowie entlang der horizontalen Linien. Zieh den Stoff mit Hilfe der Fäden unten von 20cm auf 12cm, oben von 32cm auf 24cm, entsprechend entlang der horizontalen Linien.
Ich habe mich für eine zusätzliche Verzierung aus Spitze entschieden und noch vor dem Kräuseln aufgenäht.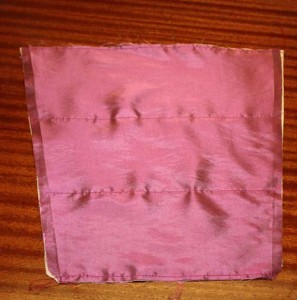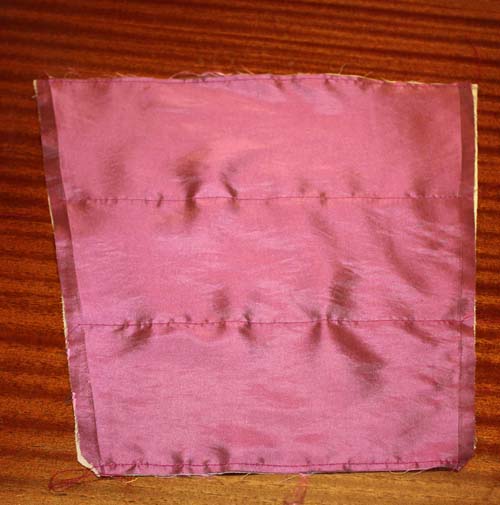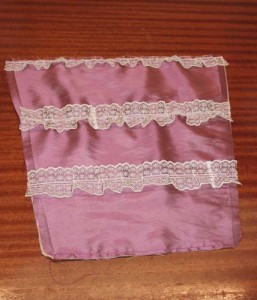 ---
Cut a strip of fabric on the straight grain, fold like you would fold a bias tape and cut to parts with a length of 15cm, 19cm, 23cm and 27cm. I added more trimmings first.
Open your folded strips of fabric and pin in place. Sew along fold line. Fold your strip again and sew the open edge with invisible stitches to the pocket. At top and bottom fold the strip over the edge and sew to the back side.
Schneide einen Streifen Stoff entlang des Fadenlaufes, falte ihn wie ein Schrägband und schneide ihn in Stücke: 15cm, 19cm, 23cm und27cm. Ich habe zuvor zusätzlich noch eine Faltenborte aufgenäht.
Die Streifen öffnen und auf die Tasche stecken, entlang der Mittellinie aufnähen. Streifen wieder zusammenfalten und die offene Kante mit unsichtbaren Stichen annähen. An der Ober- und Unterkante den Streifen über die Kante falten und hinten festnähen.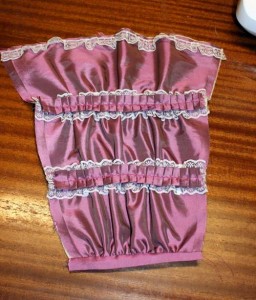 ---
If desired trim with lace all around the edges.
Ev. die Außenkanten mit Spitze verzieren.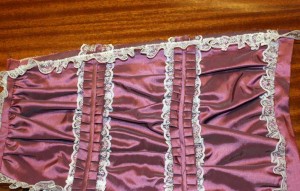 ---
Sew pocket to your overskirt. First edge you can do with your sewing machine, bottom and second side sew by hand.
Die Tasche an den Überrock nähen. Die erste Kante kann mit der Nähmaschine genäht werden, die Unterkante und die zweite Kante werden mit der Hand angenäht.