Additional to a strong fabric like coutil and facing fabric you need for sewing a corset some other materials and tools.
1. Tools
2. Spiral wire + End caps, plastic coated steel boning
3. Busk
4. Waistband, bias binding
5. Grommets (Eyelets with washers) and lacing
Zusätzlich zu festem Oberstoff oder Coutil, sowie Futterstoff braucht man für ein Korsett noch so einiges Material und Werkzeug. Was genau, das möchte ich euch hier zeigen.
1. Werkzeug
2. Spiralfeder + Endkappen, Federstahl
3. Schließe
4. Nahtband / Taillenband, Schrägband
5. Ösen mit Scheiben und Korsettschnur
 1. Tools / Werkzeuge
1) Metal shears for cutting metal boning, 2) Punch pliers, 3) Wire cutter for cutting spiral wire, 4) Awl, 5) Pliers for endcaps, 6)Tool for setting grommets 7)Grinder or rasp (optional)
1) Blechschere zum Schneiden des Federstahl, 2) Lochzange, 3) Seiten- schneider, 4) Ahle, 5) Zangen, 6) Zange zum Einsetzen der Ösen, 7) Schleifer oder Feile (optional)
---
2. Boning / Stäbe
Today as an alternative to whalebone mainly to kinds of boning are used. One side plastic coated metal boning, the other is spiral wire. I do not recommend synthetic whalebone or stuff like Rigilene for a classic corset.
You can buy boning in different length, but also continuous. With continuous boning you can cut your boning exactly the length needed. Boning should be about 1 ¼" (3cm) shorter than the boning channel, that you can sew on your bias binding without problems.
Metal boning is cut with metal shears, optionally you can bevel the corners with the metal shears or round ends with a sander or grinder.
In Korsetts werden heutzutage als Ersatz für Fischbein zwei Arten von Stäben verwendet. Einerseits Kunststoff ummantelter Federstahl, andererseits Spiralfeder. Plastikfischbein oder Rigilene kann ich für ein klassisches Korsett nicht empfehlen.
Die Stäbe gibt es in diversen Längen zu kaufen, aber auch als Meterware. Bei Meterware hat man die Möglichkeit die Länge der Stäbe genau an den jeweiligen Tunnel anpassen zu können. Die Stäbe sollten ca. 3cm kürzer sein, als der jeweilige Tunnel, um die Ober- und Unterkante problemlos mit Schrägband versäubern zu können.
Der Federstahl wird mit der Blechschere abgeschnitten, ev. Die Ecken noch schräg abschneiden. Wenn vorhanden können die Enden mit einer Schleifmaschine oder Feile rund geschliffen werden.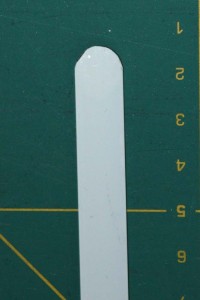 Ends must be coated otherwise they would destroy your fabric. You can buy end caps for metal bones but they slip of easily. On the internet you find a variety of tips coating the ends. I can´t recommend using adhesive tape, you can´t insert your boning easily and ends of boning can cut through the tape.
I tried coating with polymer clay, it is getting crumbly over the years and harden in the oven is a little bit tricky with longer boning. I tried coating with hot glue, but it isn´t a good option too.
My favorite is coating the ends with white acrylic lacquer. Dip ends into the lacquer about 5/8" (1,5cm) and let them dry. Turn over boning in the first few minutes some times that you won´t get beads. After drying repeat process. If you get beads that doesn´t matter, just sand them.
Die Enden müssen, um nicht durch den Stoff zu scheuern, entschärft werden. Es gibt in den entsprechenden Breiten Endkappen zu kaufen, die sich jedoch leicht lösen. Im Internet findet man noch zahlreiche Tipps die Enden zu versiegeln. Auf gar keinen Fall empfehlen kann ich das Sichern der Enden mit Klebeband, die Stäbe lassen sich nur schwer in die Tunnel einführen und mit der Zeit scheuern die Kanten durch.
Noch andere Möglichkeiten sind das Ummanteln der Enden mit Fimo der wird mit der Zeit brüchig, da eine sehr dünne Schicht aufgetragen werden muss, das Aushärten im Backofen ist vor allem bei längeren Stäben schwierig. Mit der Heißklebepistole habe ich es selbst auch schon versucht, ist aber auch keine optimale Lösung.
Ich empfehle das Tauchen der Enden in weißen Lack auf Wasserbasis. Die Enden werden ca.1,5cm in den Lack getaucht, dann zum Trocknen aufgelegt. Die Stäbe in den ersten Minuten mehrmals wenden, damit keine "Nasen" entstehen, wenn die erste Schicht getrocknet ist, den Vorgang wiederhohlen. Sollten doch Tropfen entstanden sein können diese nach dem Trocknen mit Schmirgelpapier abgeschliffen werden.
Spiral wire is cut with the wire cutter. The spiral contains of two wires twisted together, so you always have to cut two wires. For coating ends use end caps and press them to the ends with pliers.
Die Spiralfeder wird mit dem Seitenschneider geschnitten. Die Federn bestehen aus 2 Drähten, die miteinander spiralförmig  verdreht sind. Es müssen daher immer 2 Drähte durchtrennt werden. Für die Enden der Spiralfeder eignen sich am besten die entsprechenden Endkappen, die mit der Zange aufgepresst werden.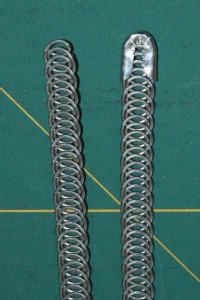 ---
3. Busk / Schließe
You can buy busks in different lengths and widths. The narrower metal busks are more flexible and softer than the wider ones. About 1873 spoon busks appeared, narrow at the top and getting wider, like a "spoon" at the bottom. Modern spoon busks are only slightly curved, in the past they were curving into the waist achieving the desired hour glass silhouette.  Spoon busks are more rigid than other busks.
The length of the busk is fixed when you do your mock-up. Always try to sit down.
Schließen sind in verschiedenen Breiten und Längen erhältlich. Die schmalen Federstahl Schließen sind flexibler und weicher als die breiteren Schließen. Um 1873 kamen die sog. Löffelplanchetten, oben schmal, im Bereich des Bauches werden sie löffelförmig breiter. Moderne Löffelplanchetten sind nur mehr leicht geformt, früher waren sie entsprechend der Mode im Bereich der Taille gebogen um die gewünschte Sanduhrform zu erreichen. Löffelplanchetten sind deutlich steifer als Schließen aus Federstahl.
Die Länge der Schließe wird erst am Probeteil bestimmt (immer auch einen Sitzversuch machen).
---
4. Waistband / Taillenband
At waistline there is most tension of the corset, therefore it is reinforced with a waistband. You can choose between a cotton twill tape or a grosgrain ribbon. The band shouldn´t be too wide 3/8" – 1 ¼" (1,5 – 3cm).
Before using cotton tape iron hot to shrink.
In der Taille, dort wo am Korsett die stärkste Belastung ist, wird zusätzlich ein Band eingenäht. Es kann sowohl ein Nahtband aus Baumwolle, als auch ein Ripsband verwendet werden. Das Band sollte nicht zu breit gewählt werden (1,5 – 3cm).
Bänder aus Baumwolle müssen vor Verwendung heiß gebügelt werden.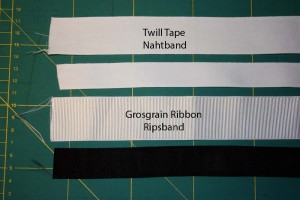 ---
5. Grommets and Lacing / Ösen und Kosettschnur
Grommets (eyelets and washers) are inserted along the back edge for lacing the corset. You always should use eyelets with washers. I prefer to use grommets with a hole of 4mm. The holes for the grommets I cut with punch pliers. At the area of the waist grommets will be set a little bit closer together than at the top and the bottom, because of the higher tension at that area.
Insert grommets with a setting tool.
Laces for corsets you can buy from cotton or polyester, ready cut or by the meter. The lace should be long enough to put on the corset comfortable.
You can fuse the ends of the lacing with a lighter if it is polyester, for cotton laces you can use heat shrink tubing.
Laces from polyester slide a little bit easier through the grommets, I prefer cotton lacings, because I lace up my corsets by myself.
Entlang der Hinterkante werden für die Schnürung Ösen eingeschlagen. Es sollten immer Ösen mit Scheiben verwendet werden, damit der Stoff nicht ausfranst. Ich werdende am liebsten Ösen mit einem Innendurchmesser von 4mm.  Die Löcher für die Ösen stanze ich mit der Lochzange aus, es ist aber oft in der Packung entsprechendes Werkzeug vorhanden. Im Bereich der Taille liegen die Ösen etwas enger, darüber und darunter weiter auseinander. Die Ösen werden mit dem beiliegenden Werkzeug , oder der Ösenzange eingesetzt.
Korsettschnüre gibt es aus Baumwolle oder Polyester zu kaufen, fertige Längen oder als Meterware. Die Länge der Schnur sollte so gewählt werden, dass das Korsett bequem angezogen werden kann.
Die Enden der Schnüre können bei Polyester einfach mit einem Feuerzeug leicht angeschmolzen werden, für Schnüre aus Baumwolle kann ein Schrumpfschlauch verwendet werden.
Schnüre aus Polyester gleiten etwas leichter durch die Ösen, ich selbst bevorzuge Schnüre aus Baumwolle, da ich meine Korsetts selbst schnüre.
---