5. Close collar facing at center back sew to collar piece, right sides together. Trim seam allowance and clip curves. Within the range of your velvet appliques sew seam allowance with a cross stitch to outer fabric, be careful not to stitch through appliques. Press collar edge so you won´t see your seam at the outside.
5. Kragenfutter an der hinteren Mitte schließen, NZ auseinander bügeln. Rechts auf Rechts auf den Kragen stecken und nähen. Nahtzugaben zurückschneiden und in den Rundungen einschneiden. Im Bereich der Samtapplikationen Nahtzugaben mit Hexenstichen an das Kragenteil nähen, dabei nicht bis zur Oberseite durchstechen. So legt sich die Kante schöner. Kragenkante so bügeln, dass die Naht an der Außenseite nicht sichtbar ist.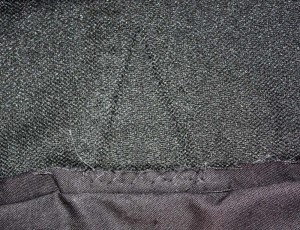 ---
6. Hem:
For the hem facing cut a strip of fabric 3 1/8" (8cm) wide, 67" (170cm), size 18-26 (EU 44-52) 79" (200cm) Long.                          Pin lining and outer fabric of collar at hem line, right sides together, fold front edge seam allowance towards lining. Fold in seam allowance of the loose end of collar facing. Pin facing strip to hem line, at collar seam overlap collar facing.
6. Saum:
Für den Saum einen 8cm breiten Streifen mit einer Länge von 170cm bis 42 (200cm 44-52) vorbereiten.                                                                                Am Kragenteil  Futter und Oberstoff an der Saumkante rechts auf rechts zusammenstecken, die Nahtzugabe der Vorderkante Richtung Futter legen, die Nahtzugabe des Futters am Kragenansatz umschlagen und feststecken. Den Streifen an die Saumkante stecken, im Bereich des Kragenfutters einige cm überstehen lassen.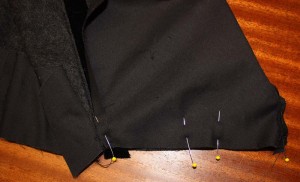 Sew hem, don't catch lining of pleats. Trim seam allowance, clip corners and turn right side out. Fold in upper seam allowance of strip and sew with a felling stitch just to lining, spread fullness when needed. Press pleats again.
Saumkante nähen, das Futter am Schößchen nicht mitfassen, Nahtzugaben etwas zurückschneiden, Kragen wenden und bügeln. Die Naht sollte von außen nicht sichtbar sein. An der Oberkante des Streifens Nahtzugabe einschlagen und nur an den Futterstoff anstaffieren. Mehrweite einhalten. Schößchen nochmals bügeln.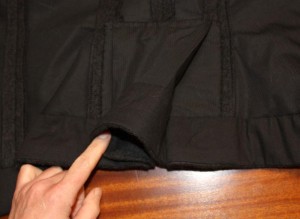 Fold in seam allowance of collar facing and sew to collar seam. Lay excess fabric to a little fold at bust point.
Die Nahtzugabe des Kragenfutters einschlagen und an die Nahtzugabe der Kragenansatznaht anstaffieren. Mehrweite im Bereich der Brust in eine kleine Falte legen.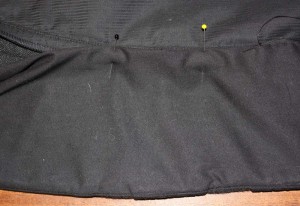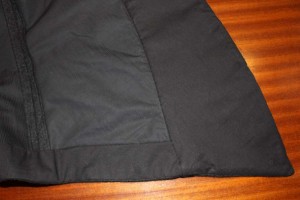 ---
7. Close back seam of sleeve, make gathering stitches at sleeve head. Close front seam, press.                                                                                               Mark and sew velvet appliques to cuff as described before.              Close side seam of cuff and cuff lining. Sew cuff to cuff lining at upper edge, right sides together, trim seam allowance. Turn inside out, press edge so you can´t see the seam from outside. At velvet appliques fix seam allowance with a cross stitch to the outer fabric like you did before at the collar.
7. Hintere Ärmelnaht schließen, NZ auseinanderbügeln, an der Ärmelkugel Reihfäden nähen. Vordere Ärmelnaht schließen, bügeln.      An den äußeren Manschettenteilen erst am Schnitt wie beim Kragen Dreiecke anzeichnen, Samtdreiecke und Samtbänder aufnähen. Seitennaht an der Manschette und am Manschettenfutter schließen und an der Oberkante verstürzen. So bügeln, dass die Naht außen nicht sichtbar ist und an den Samtdreiecken die Nahtzugabe wie beim Kragen anhexen.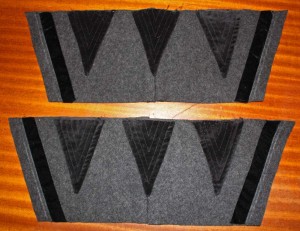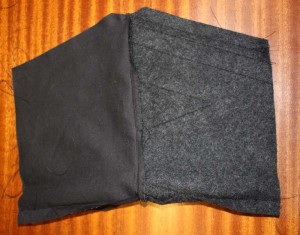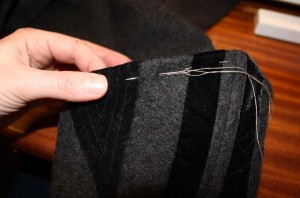 Sew cuff lining to cuff. Trim seam allowance exactly to 3/16" (1/2cm), fold cuff hem neatly to the inside of sleeve and stitch down (see profile).
Manschettenfutter an den Ärmel nähen. Nahtzugaben auf genau 1/2cm zurückschneiden und die Saumzugabe in den Ärmel einschlagen, festnähen. (siehe Querschnitt)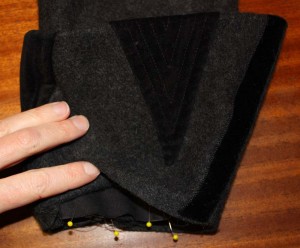 Set in sleeve according marks. With a modern sleeve you will spread most of the fullness to back armhole and sleeve head. This is a Victorian sleeve, at the back armhole insert the sleeve quite plain, spread the fullness at the sleeve head between shoulder seam and forearm pitch.                                                                                                                 Sew sleeve lining and insert to sleeve. At the armhole attach at seam allowance. At hem fold in seam allowance and sew to hem allowance of cuff. Cover with a velvet ribbon.
Ärmel entsprechend den Markierungen einsetzen. Bei einem modernen Ärmel wird relativ viel Weite auf die Ärmelrückseite verteilt, bei einem viktorianischen Ärmel wird dieser Bereich glatt eingesetzt und die Weite nur in die Ärmelkugel verteilt.
Das Ärmelfutter zusammennähen, bügeln und in die Ärmel schieben. Am Armloch an den Nahtzugaben festnähen. Am Saum umschlagen und an die Saumzugabe der Manschette nähen. An der Ärmelinnenseite noch ein Samtband aufnähen.
---
8. Sew on Hooks and Eyes, sew velvet placket to the inside of left collar piece between first and last hook.                                                  Measure waistband and sew to seam allowance of center back, sew on hooks and eyes in front.
8. Haken und Ösen annähen, einen Beleg aus Samt auf der Innenseite des linken Kragenteils nähen.                                                                            Taillenband abmessen und an die Nahtzugaben der hinteren Mitte nähen, vorne Haken und Ösen anbringen.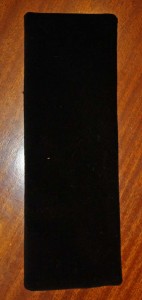 ---
9. Face stripe of velvet 79" x 6" (200 x 15cm) with sateen lining, bevel ends at an angle of 45°, make a bow and sew to center back.
9. Samtstreifen 200x15cm mit entsprechendem Futterstoff verstürzen, die Enden im Winkel von 45° abschrägen. Schleife binden und oberhalb des Schößchens mit einigen Stichen festnähen.
You can by the pattern for this jacket here
Der Schnitt für die Jacke ist hier erhältlich