To prevent showing casting stitches on the outside of the fabric French seams or flat felled seams are used to join sheer fabrics. I´ll show you a fastening for a skirt with a placket to be closed with hooks and eyes. Of course it can be used with heavier fabrics too.
Um zu verhindern, dass sich bei sehr dünnen Stoffen Stiche, die zum Versäubern der Kanten verwendet werden, sei es nun ein Zickzack oder ein Overlockstich, durchdrücken, werden die Nähte oft als französische Nähte oder auch als Kappnähte ausgeführt. Ich möchte euch hier zeigen, wie man in feine Stoffe einen Verschluss mit Untertritt mit Haken und Ösen einarbeitet. Natürlich ist diese Art von Verschluss auch für dickere Stoffe geeignet.
---
Fold the placket lengthwise right sides together. Sew along the bottom edge and along the long edge. Trim seam allowance, turn inside out and press. The width now should be the desired width of the placket e.g. 1 5/8" (4cm) + 5/8" (1,5cm). On the pic you see an overlock casted placket for comparison.
Der Untertritt wird der Länge nach rechts auf rechts gefaltet und entlang der Unterkante, sowie der langen Kante genäht. Die Nahtzugaben zurückschneiden, wenden und Bügeln. Der Untertritt sollte nun die gewünschte fertige Breite z.B. 4cm + 1,5cm Nahtzugabe haben. Am Bild im Vergleich dazu ein mit Overlockstich versäuberter Untertritt.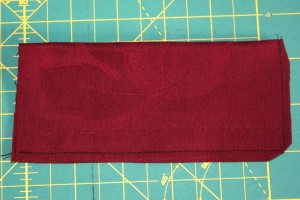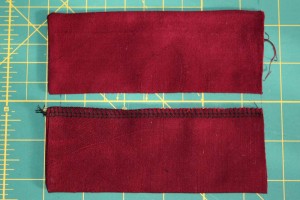 ---
Mark seam allowance (5/8" (1,5cm)) at the right side of the placket and line up with the skirt edge, right sides together. Sew together close to the edge; stop about 5/8" (1,5cm) away from the bottom edge of the placket. Unfold the placket, mark position of eyes and sew them to the placket by hand so that they ride out just a little bit the sewing line.
Am Untertritt auf der Oberseite die Nahtzugabe von 1,5cm markieren und rechts auf rechts auf die Kante des Rockes legen. Knapp neben der Kante annähen, ca. 1,5cm vor der Unterkante stoppen. Untertritt aufklappen, die Position der Ösen markieren und so mit der Hand annähen, dass sie etwas über die Nahtlinie hinausragen.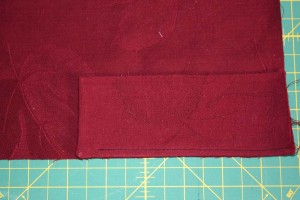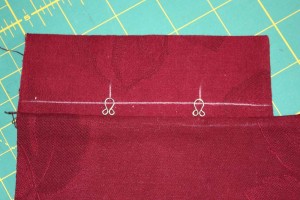 ---
Sew the facing to the other edge of the skirt. Line up with the edge, right sides together, fold up seam allowance of the bottom edge of the facing and sew.
Close skirt seam, line up edges exactly and pin together, fold away placket and facing, sew. The seam ends a little bit above the facing seam, take care not to catch the placket of facing while sewing.
Beleg an die gegenüber liegende Rockkante nähen, dazu den Beleg rechts auf recht auf die Kante legen du die Nahtzugabe an der Unterkante nach oben legen.
Den Rock schließen, dazu die noch offenen Kanten genau aufeinander stecken, den Beleg und den Untertritt wegfalten, nähen. Die Naht endet etwas oberhalb der Belegnaht, aufpassen, dass weder Beleg noch Untertritt mitgefasst werden.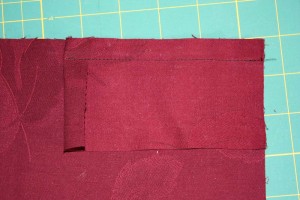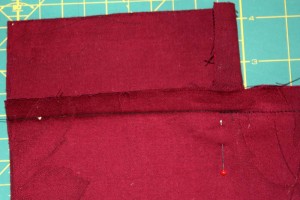 ---
Press open seam allowance; clip on the placket side towards seam end. Trim seam allowance on the side of the facing to ¼" (0,5) cm. Fold seam allowance of the placket side over the trimmed seam allowance of the facing side to get a flat felled seam, sew.
Fold skirt at the placket aside and mark position of eyes. Sew along the seam line. Skip eyes, lock seam before and after. If you want a continuous seam use your hand wheel for not breaking the needle. Press edge carefully.
Die Nahtzugabe auseinander bügeln, auf der Seite des Untertrittes Richtung Ende der Naht einknipsen. Die Nahtzugabe auf der Belegseite auf 0,5cm zurückschneiden und die Nahtzugabe der Untertrittseite für eine Kappnaht darüber falten, bügeln und die Kappnaht nähen.
Den Rock am Untertritt zur Seite falten und die Position der Ösen markieren. Entlang der Nahtlinie nähen, dabei die Position der Ösen überspringen, Naht davor und danach verriegeln. Wer möchte kann auch durchgehen nähen, im Bereich der Ösen mit dem Handrad nähen, damit die Nadel nicht abbricht. Vorsichtig die Kante bügeln.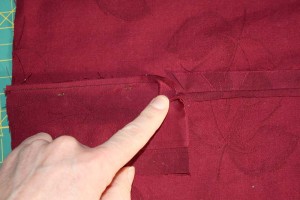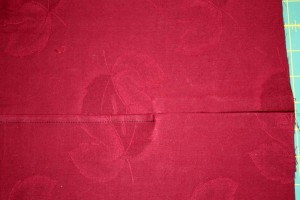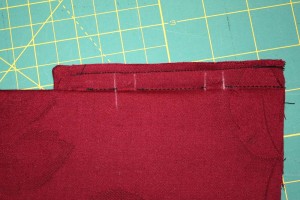 ---
Fold in raw edge of facing. Sew facing, bottom edge and Seam allowance of placket through all layers with small pointed stitches.
Mark position of hooks and sew only to the facing. If wanted sew along the facing edge with pointed stitches for more stability.
Sew waistband as usual.
Die noch offene Kante des Belegs einschlagen. Den Beleg, entlang der Unterkante und die Nahtzugabe des Untertrittes mit kleinen punktförmigen Stichen durch alle Lagen festnähen.
Position der Haken markieren und nur an den Beleg nähen. Wenn gewünscht für mehr Stabilität noch entlang der Belegkante mit punktförmigen Stichen alle Lagen zusammennähen.
Bund wie gewohnt annähen.