The last hand stitching embroidery I remember was at school. That´s quite a long time since then. After some research, I decided to copy this pattern for my husband´s 1840´s waistcoat. A friend, Helena, who does a lot of 18th century needle painting embroidery, recommended using floss silk for my project. I was a little bit shocked when I got my floss silk. The thread was so fine, and with its golden color it was nearly invisible with the background of my kitchen table. However, the first try on my ice green silk was not too bad. I used a sateen stitch for the branches and a false satin stitch for the leaves, due to my panic running out of thread during the project. All the embroidery process was quicker than expected, enjoying the first spring sunbeams on my terrace while working.
Meine letzten Handstickversuche? Ich glaube, das war noch in der Schule und das ist wirklich lange her! Nach einigen Recherchen beschloss ich diese Vorlage zu kopieren und für die 1840er Weste für meinen Mann zu verwenden. Eine Freundin, Helena, empfahl mir "Floss Silk" für die Stickerei zu verwenden. Sie selbst macht viel Nadelmalerei. Als ich meine Stickseide dann zum ersten Mal in der Hand hielt war ich doch leicht schockiert. Der Faden war so fein und mit seiner goldenen Farbe auf dem Küchentisch fast unsichtbar. Aber egal, der erste Versuch auf der eisgrünen Seide war gar nicht so schlecht. Ich nahm einen Plattstich für die Äste und einen falschen Plattstich für die Blätter, vor allem da ich Panik hatte, die bestellte Seide würd nicht ausreichen. Im großen und ganzen ging die Stickerei ganz flott voran, vor allem da ich während des Stickens die ersten Frühlingssonnenstrahlen auf der Terrasse genießen konnte.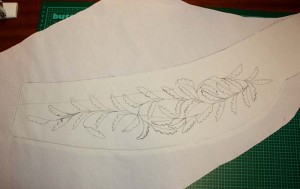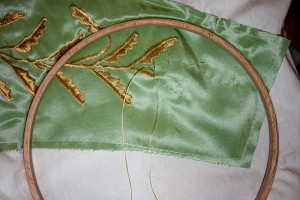 ---
At the same time I started to prepare the other waistcoat pieces. Here you see the back, ready prepared to be joined to the front. Just a single layer of fabric, the armhole neatened with bias binding.
Neben der Stickerei begann ich auch schon mit den Vorbereitungen für den Rest der Weste. Hier seht ihr den fertig vorbereiteten Rücken. Er besteht nur aus einer Lage, die Armlöcher sind mit Schrägband versäubert.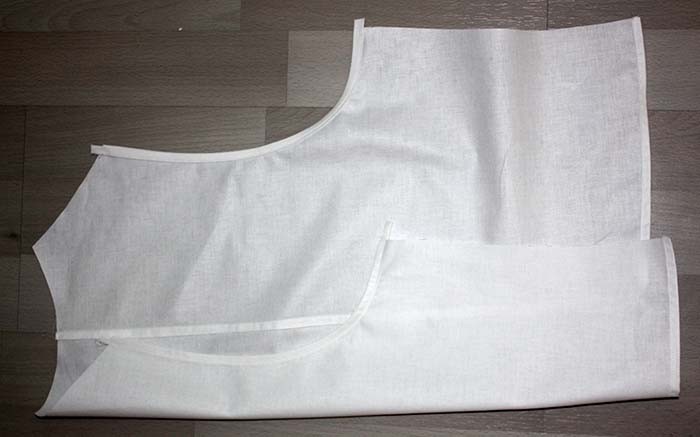 ---
I interlined the front pieces with linen and made the welt pockets the usual Victorian way. Anybody here interested in an extra how-to?
Das Vorderteil wurde von mir mit Leinen verstärkt, die Leistentaschen in der üblichen viktorianischen Art verarbeitet. Ist irgendjemand in einem eigen How-to interessiert?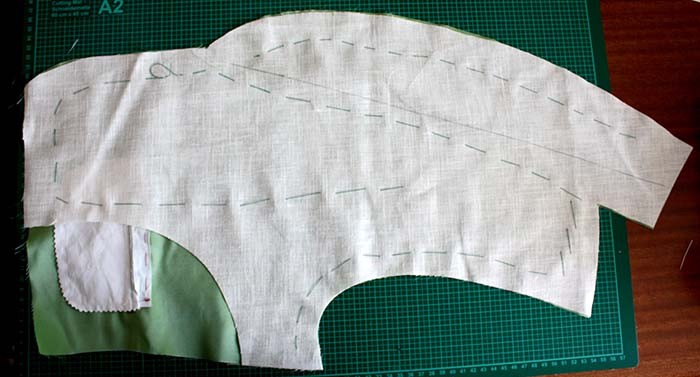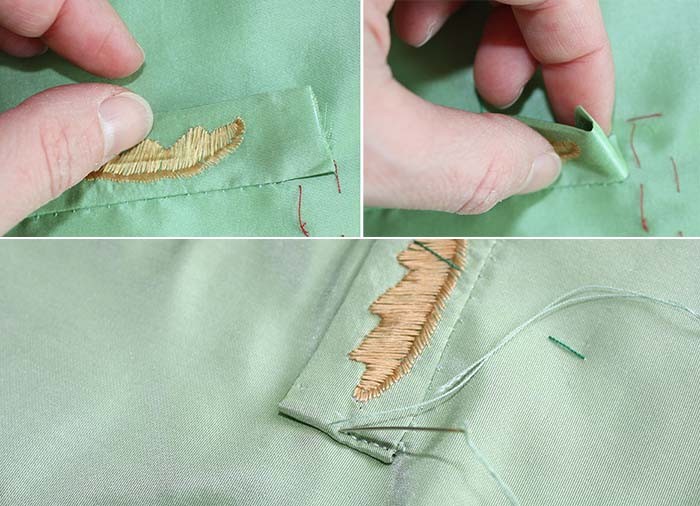 ---
I sewed a cotton tape along all edges and the roll line with a catch stitch, along the stitching line I tried to make small stitches through the fashion fabric. At the center back, I joined the fronts and laid the interlining one side over the other to avoid bulk.
Entlang der Kanten und der Rolllinie nähte ich ein Baumwollband mit einem Hexenstich auf. Entlang der Nahtlinie versuchte ich wirklich kleine Stiche durch den Oberstoff zu machen. An der hinteren Mitte wurden die Teile zusammengenäht, die beiden Seiten Einlage übereinander gelegt, damit es nicht zu dick wird.
---
The front with the embroidered lapel facing already attached and pressed.
Hier sieht man schon die Kragenbelege fertig angenäht und gebügelt.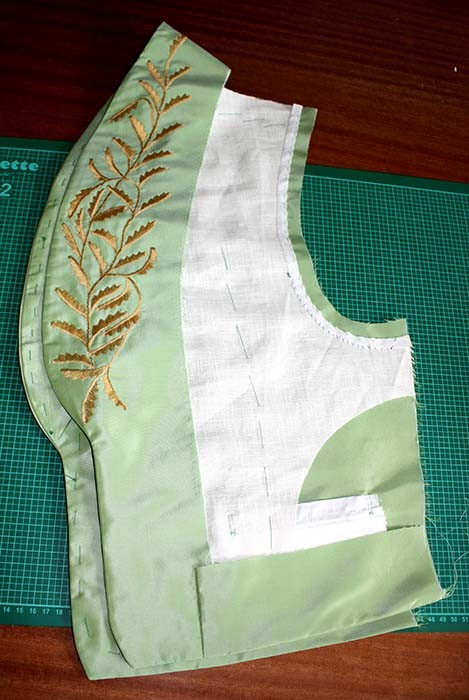 ---
Now I decided to make things a little bit different, due to the single layer back. I sewed the back part to the fronts, first the neckline, after notching the shoulder seams and at least the side seams. All seam allowances are trimmed, and notched at curved seams, then pressed towards the fronts.
An diesem Punkt entschied ich mich aufgrund des einlagigen Rückens etwas anders als üblich vorzugehen. Der Rücken wurde an das Vorderteil genäht, erst entlang des Halsausschnittes, nach dem einknipsen der Nahtzugaben entlang der Schultern, zuletzt entlang der Seitennähte. Alle Nahtzugaben wurden zurückgschnitten, an den Rundungen eingeknipst und Richtung Vorderteil gebügelt.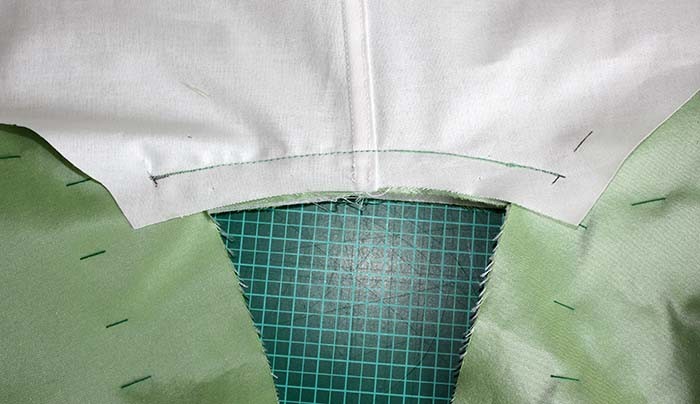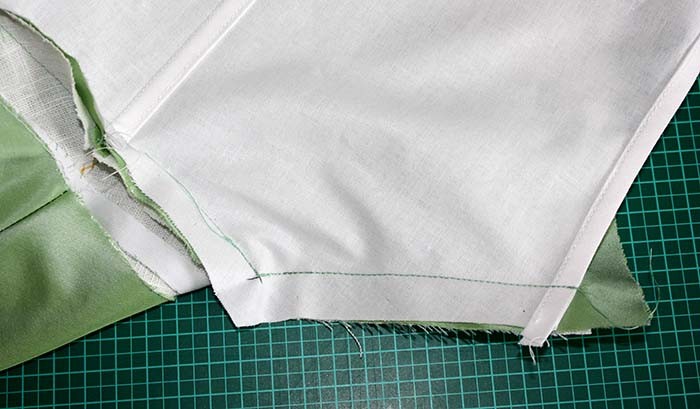 ---
Then I folded the fronts along the roll line and sewed the edges of the facing to the interlining. I notched the facing at the shoulder seam, turned in the seam allowance along the neckline and fell stitched the collar.
Dann schlug ich den Kragen so um, wie er später liegen soll und nähte den Beleg entlang der Kante an die Einlage. An der Schulternaht knipste ich den Beleg ein und faltete die Nahtzugabe nach Innen.  Ich nähte den Kragen entlang des Halsausschnittes mit einem Staffierstich an.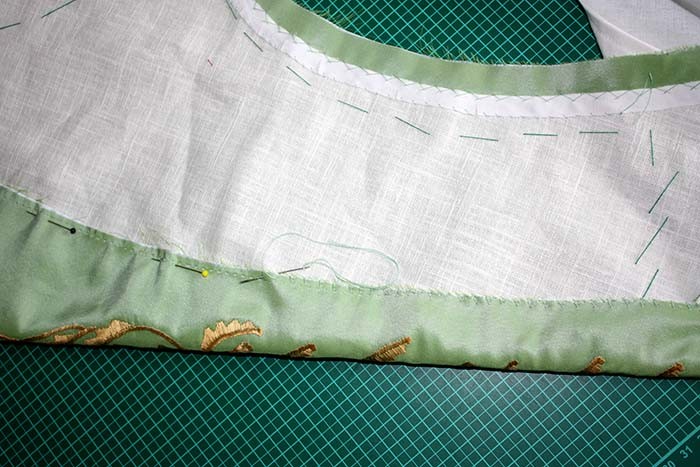 ---
I prepared the front lining, turned in all seam allowances and fell stitched the lining to the inside of the fronts.
Am Futter für das Vorderteil faltete ich alle Nahtzugaben nach Innen und nähte es mit einem Staffierstich ins Vorderteil ein.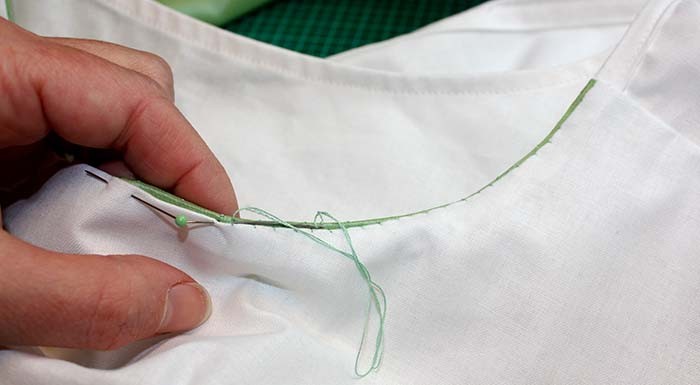 ---
Ready! Fertig!