I found a lovely fabric in a marvelous color. But what would it look best? I decided to make a early bustle dress. First I started with a basic skirt.
The upper fabric will be lined with cotton fabric and worked as one layer. Historically not correct I neatened the edges with my serger.
The skirt has a front and back part and two gores each side. At the left side I made a pocket between the two gores, at the right side the closure with a placket.
Zufällig fand ich in diesen Stoff und verliebte mich sofort in die Farbe. Aber was wird daraus? Nach vielem hin und her hab ich mich nun für ein frühes Tornürenkleid entschieden. Also muss erst einmal ein Basisrock her.
Der Oberstoff wird komplett mit Baumwolle gedoppelt und die beiden Lagen gemeinsam verarbeitet. Ich gebe zu, die Rockbahnen sind ganz unhistorisch unter der Overlock gelandet.
Der Rock besteht aus einem Vorderteil, einem Rückteil, so wie je zwei seitlichen Bahnen. Auf die linke Seite zwischen Bahn 2 und 3 kam eine Tasche, rechts zwischen die gleichen Bahnen der Verschluss mit Untertritt.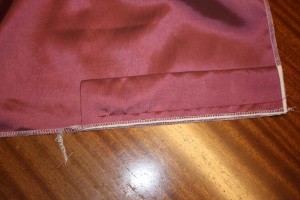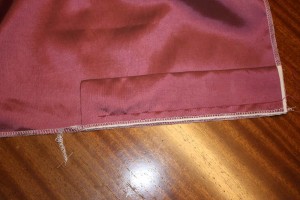 ---
The front part and side gores are joined smoothly to the waistband, the back part is shirred to cartridge pleats and sewn closely to the waistband.
For the cartridge pleats fold seam allowance of back part to the inside and iron. Mark depth of folds and sew with a strong thread. Two rows with a distance of 1cm (3/8") are enough. First I chose 1cm for the depth of my pleats but later on I decided to make the pleats 1,5cm (5/8") deep for fitting the waistband.
Die vordere und die seitlichen Rockbahnen werden glatt am Bund angesetzt, die hintere Bahn wird in enge Bleistiftfalten gelegt und diese eng an den Bund angenäht.
Für die Bleistiftfalten die Nahtzugabe der hinteren Rockbahn umschlagen und bügeln, Abstände für die Falten markieren und mit einem Reihfaden einreihen. 2 Reihen im Abstand von 1cm sind ausreichend. Ich habe mich zuerst für eine Faltentiefe von einem Zentimeter entschieden, später dann auf 1,5cm erweitert, da sonst der vorgesehene Platz am Bund nicht ausgereicht hätte.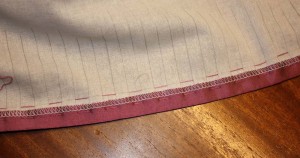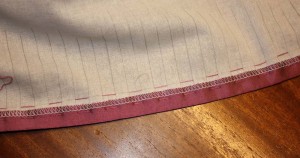 ---
At the waistband do not use any interlining. Sew together upper fabric and lining right sides together and turn inside out. The seam allowance of the lower edge would be folded to the inside of the waistband.
Historically correct fold the seam allowance of the upper edge of the skirt to the inside and iron. Lay on the waistband to the upper edge, right sides together and sew the waistband with small stitches to the skirt.
Der Bund wird nicht verstärkt, außen aus Oberstoff, innen Futterstoff verstürzt und die Nahtzugaben an der offenen Unterkante eingebügelt.
Historisch korrekt wird die gesamte Nahtzugabe der Rockoberkante umgeschlagen, der Bund von rechts aufgelegt und mit überwendlichen Stichen an den Bund genäht.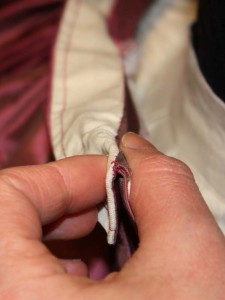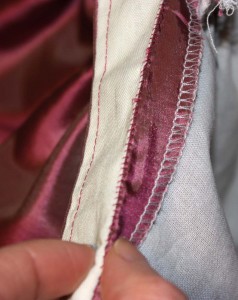 ---
At the back part shirr fabric by pulling the threads firmly. Sew fold by fold to the waistband very closely together.
Sew on hooks and eyes and hem the skirt – ready!
Die Reihfäden werden angezogen und die hintere Bahn damit in enge Falten gelegt. Diese werden einzeln eng beieinander an den Bund genäht.
Dann noch Haken und Ösen angebracht, Rock gesäumt und fertig.