Continuing my 1830s men´s pattern collection, it´s time for matching trousers, suitable to wear with the 1830´s Tailcoat and shirt. In general trousers are easier to sew than the coats, just some pocket details are more complex.  I´ll show and explain that details her in this tutorial with lots of pictures. I choose the US size 38 (EU 48).
Um meine 1830er Herrenschnittmuster Kollektion zu vervollständigen gibt es nun die passende Hose zum Tailcoat und Hemd. Im Allgemeinen sind Hosen einfacher zu nähen als Jacken und Mäntel, nur die Hosentaschen machen manchmal Schwierigkeiten. Daher möchte ich hier in diesem Tutorial mit vielen Bildern näher darauf eingehen.
Na dann geht es schon los mit dem Schnittmuster. Ich habe mich in diesem Fall für die Größe EU 48 entschieden.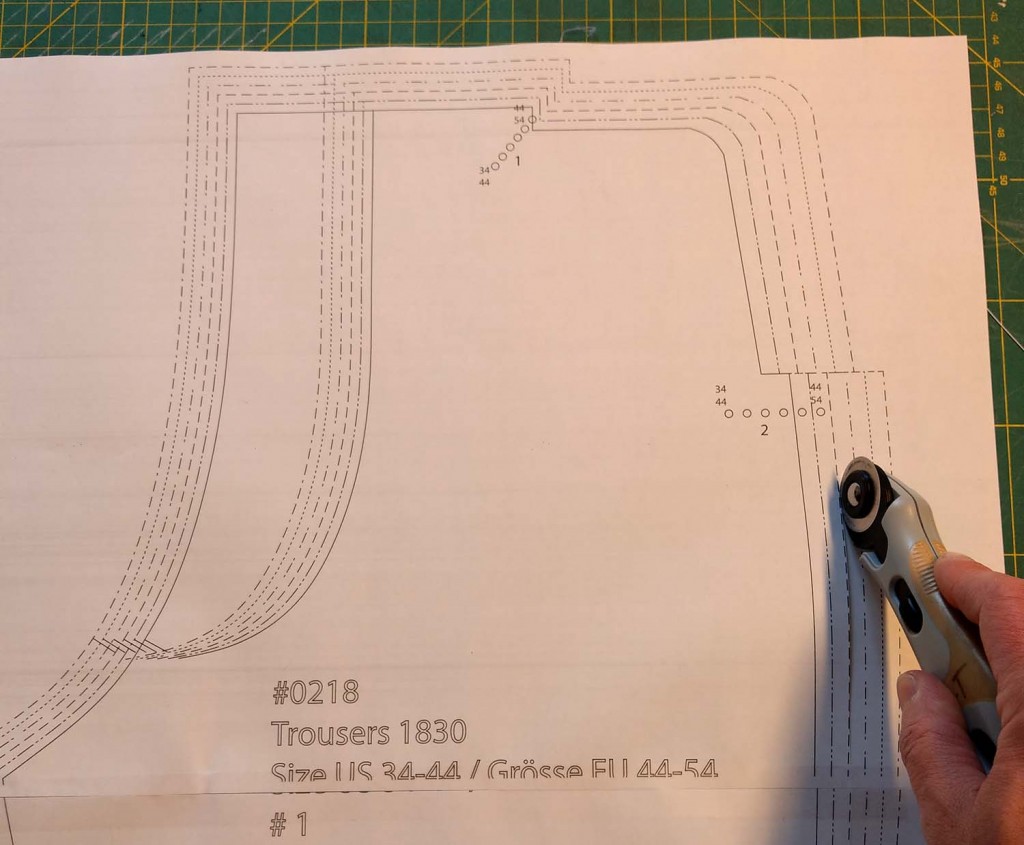 ---
After cutting all pattern pieces, I marked the marks corresponding to the size chosen. Re-check your marks, the red arrow points on the mark I did wrong at the first time.
Hier sind alle Schnittmusterteile vorbereitet, ich habe die entsprechenden Eckpunkte mit grünem Stift markiert. Habt ihr meinen Fehler auch bemerkt? Beim roten Pfeil habe ich den falschen Punkt erwischt, also immer noch einmal kontrollieren.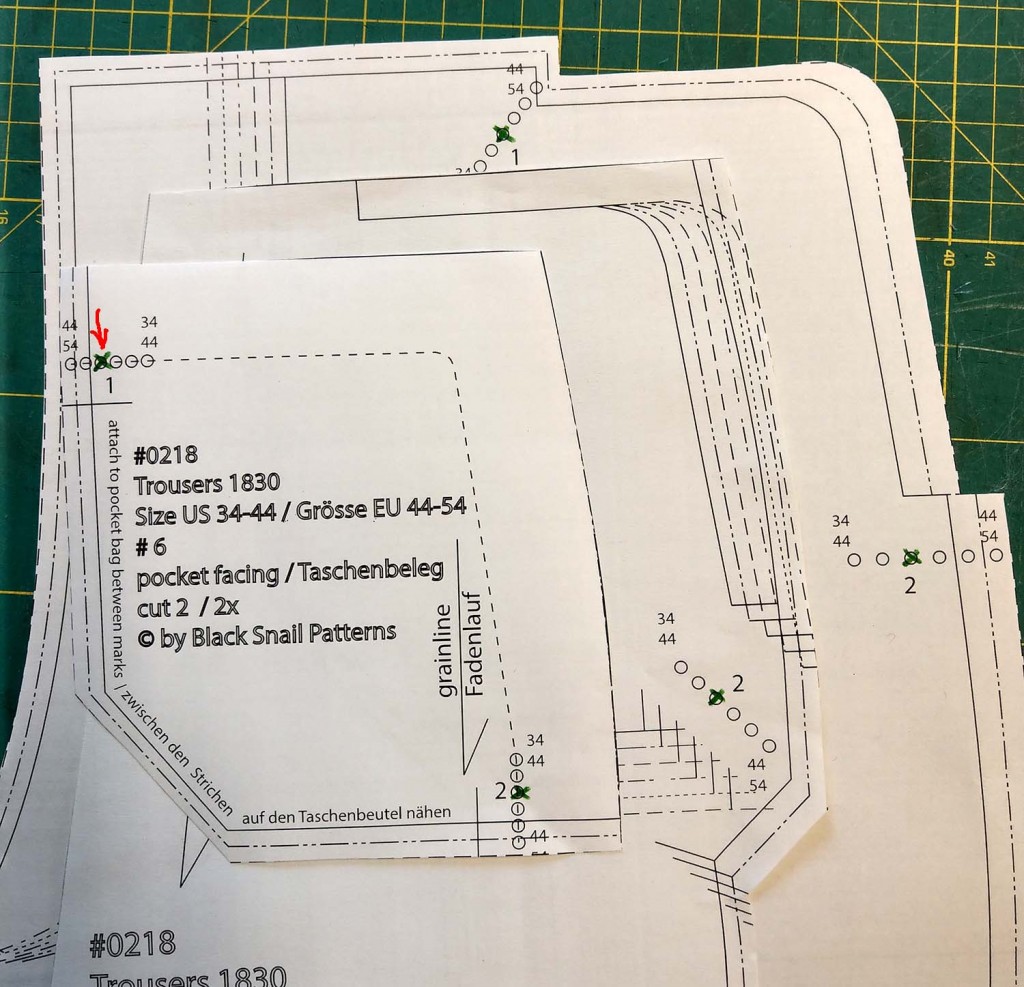 ---
Cut all pieces from fabric and lining. The pocket bag is cut on fold fabric. All pictures are showing the left  pocket!
Alle Teile aus Stoff ausschneiden. Der Taschenbeutel wird im Stoffbruch zugeschnitten. Alle Bilder hier zeigen die linke Tasche!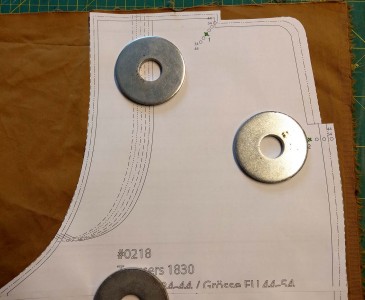 ---
Place the pocket facing on top of the pocket back and attach between the marks with a blanket stitch. A zigzag stitch serves as well, but we´re sewing 1830s trousers. Stay between the marks, you´ll see later why.
Den Taschenbeleg auf den Taschenbeutel legen und zwischen den Markierungen mit einem Festonstich annähen. Ein Zickzackstich mit der Nähmaschine wäre auch ok, aber wir nähen eine 1830er Hose. Wirklich nur zwischen den Markierungen nähen, warum seht ihr später.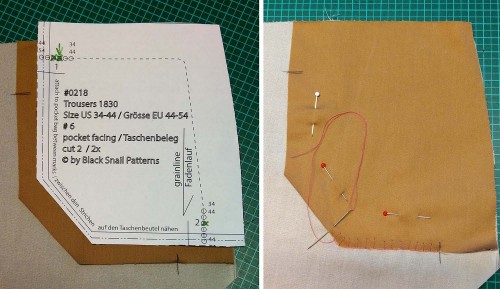 ---
Take the sewing pattern of the pocket back and cut along  line, indicating the front edge. Place on top of the pockt bag and trim back the edge. Mark the stitching line on the wrong side of the pocket bag to get a nice result later. Transfer the position of mark (1) and (2) to the front and back pocket bag. 
Am Schnittmuster des Taschenbeutels entlang der Linie für den Tascheneingriff schneiden. Auf den vorderen Taschenbeutel legen und entsprechend zuschneiden. Auf der linken Stoffseite des vorderen Taschenbeutels die Eckpunkte (1) und (2) und die Nahtlinie markieren.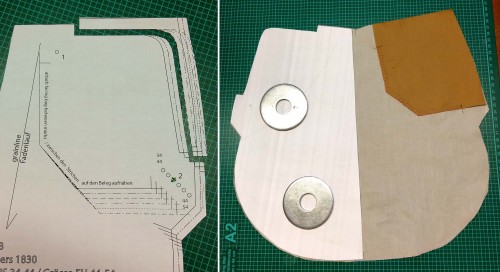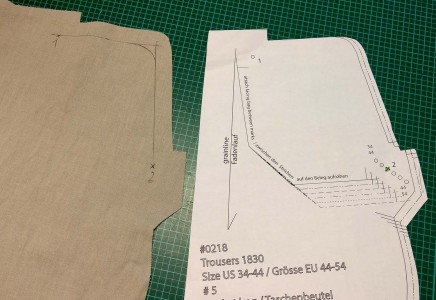 ---
Line up the topsides and the front pocket bag, right sides together, between mark (1) and (2) . Push back the fashion fabric about 1/16" (2mm) for the roll width needed, the corner marks have to meet. First pin, then baste in place. Stitch exactly between the marks. Notch the fashion fabric and pocket bag angled towards end of stitching, as shown on the picture. Trim back the seam allowance along the edge to about 1/4″ (5mm). 
Vorderhose und Taschenbeutel rechts auf rechts zwischen Markierung (1) und (2) zusammenstecken, dabei den Oberstoff für die nötige Rollweite etwas zurückschieben, die Eckpunkte müssen sich treffen. Erst stecken, dann heften. Genau zwischen den Eckpunkten nähen. Den Oberstoff und Taschenbeutel zum Nahtende hin in einem Winkel von 45° wie am Bild gezeigt einknipsen. Die Nahtzugabe entlang der Kante auf ca. 5mm zurückschneiden.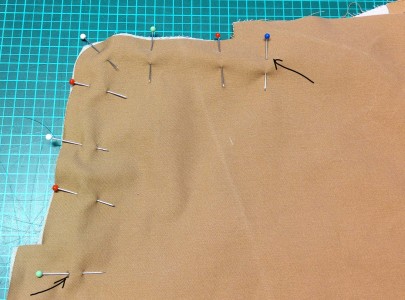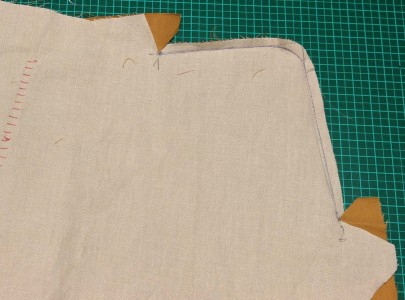 ---
Turn the right side out. Press the edge, rolling the seam slightly out of sight toward the garment wrong side. Edgestitch (prick stitch) along the squared pocket edge between (1) and (2) to hold in place.
Auf rechts wenden und die Kante so bügeln, dass die Naht etwas auf der Innenseite zu liegen kommt und von rechts nicht zu sehen sein. Entlang der Kante von rechts mit kleinen punktförmigen Stichen nähen und so die Kante sichern.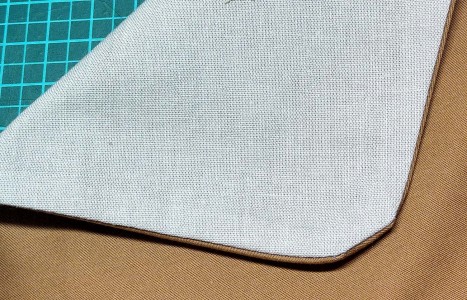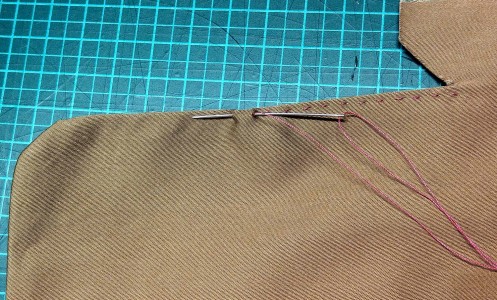 ---
Fold the pocket bag in half, right sides together and line up marks (1) and (2). Turn in the short seam allowance at mark (2).
Den Taschenbeutel mittig rechts auf rechts falten und die Vorderhose so auf den Taschenbeleg stecken, dass sich die Eckpunkte treffen. Die Nahtzugabe an der kurzen Kante bei Markierung (2) wie gezeigt einschlagen.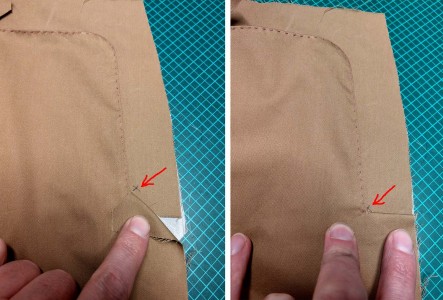 ---
Fold just the topside upwards. Mark the stitching line along the short edge and sew to the facing only, pulling the pocket bag to the side while sewing. Stitching starts exactly at mark (2). Notch the seam allowance of the facing towards mark (2), following the edge of the seam allowance of the topside, trim back and press open. Fold the topsides downwards and check if everything lays flat and nice. Repeat all steps at mark (1). The corners will be bar-tacked for more strength later. 
Die Vorderhose nach oben schlagen, die kurze Kante und den Beleg exakt aufeinander stecken und den Taschenbeutel zur Seite ziehen. Die Nahtlinie markieren und beim Nähen weder vorne noch hinten den Taschenbeutel mitfassen. Die Naht beginnt genau an der Ecke bei Markierung (2). Die Nahtzugabe am Beleg schräg einknipsen (entsprechend der Vorderhose) und zurückschneiden, die Nahtzugaben auseinander bügeln. Die Vorderhose wieder nach unten legen und kontrollieren, ob Alles schön flach liegt. Alle Schritte an der oberen Ecke wiederholen. Die Ecken werden später noch mit einem Riegel verstärkt.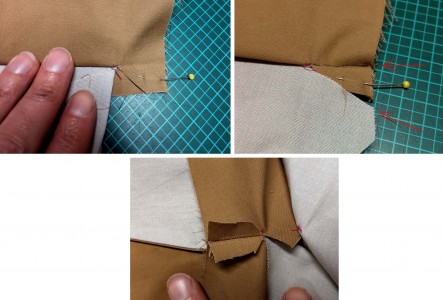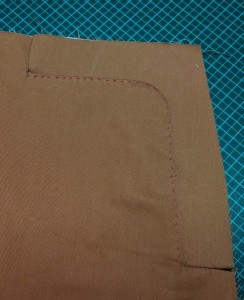 ---
Sew the pocket bag, starting at the fold until reaching the side edge, and neaten the edges with an overcasting stitch (recommended for fine fashion fabrics and View B).
For a French seam, pull the bag through the pocket and line up the two layers wrong sides together. Sew with a seam allowance of ¼" (5mm), starting at the fold, around the curve, until reaching the mark (corner). Notch at the corner towards the end of stitching. Pull back the pocket bag through the pocket mouth and press. Sew again ¼" (5mm) beside the edge, leading the seam over the corner until reaching the side edge.
Den Taschenbeutel schließen, dabei ist der einfachste Weg die beiden Lagen genau aufeinander legen und mit einer doppelten Naht zusammennähen, die Kante wird mit einem überwendlichen Stich versäubern (empfohlen für feine Stoffe und Version B).
Für eine französische Naht, durch die Taschenöffnung greifen und den Beutel durchziehen. Die beiden Lagen links auf links genau aufeinander legen und ca. 5mm vom Rand entfernt nähen. An der Falte starten und in der Ecke an der Markierung stoppen. Die Nahtzugabe an der Ecke zum Nahtende hin einknipsen. Den Taschenbeutel wieder zurück durch dein Eingriff ziehen und bügeln. Noch einmal ca. 5mm von der Kante entfernt nähe, die Naht über die Ecke bis zur Seitenkante hin fortführen.

---
Line up the front and back trouser, right sides together, and sew the side seam. Don´t catch any pocketing. Press open the side seam, turn in the seam allowance of the pocket bag and fell stitch to the seam allowance of the side seam.
Vorder- und Hinterhose rechts auf rechts zusammenstecken und die Seitennaht schließen. Den Taschenbeutel auf keinen Fall mitfassen. Die Nahtzugaben der Seitennaht auseinander büglen, die Nahtzugabe des Taschenbeutels einschlagen und an die Nahtzugabe der Seitennaht anstaffieren.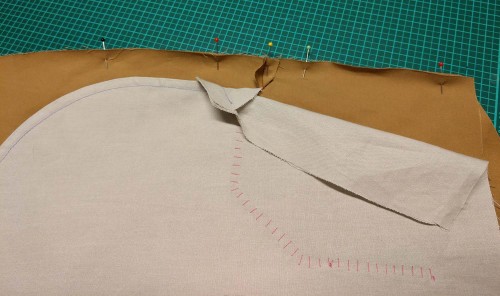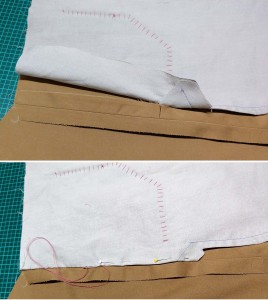 ---
Sew the waistband to the trousers. Bar-tack the corners of the pocket through all layers, sewa button hole at the corner and sew on a fabric-covered button.
Den Bund annähen und die Ecken der Tasche mit einem Riegel durch alle Lagen verstärken. Knopfloch nähen und einen mit Stoff überzogenen Knopf anbringen.