This year we do again our history Sumer retreat. This time near Leipzig. As costume theme the romatic era would be suitable.
During the last years I made two Dresses for me, just a suit for the Gentleman is missing.
Let´s start with trousers. After some research it was clear I´ll sew checked trousers with a front fly. From 1830-40 front fall trousers became unfashionable. At the back they have a saddle like Jeans, a gusset and straps.
Unfortunately, I didn't find pictures or anything else about pockets bags. So I decides to make them like Jeans pockets.
---
Let´s start with the pockets! The back pocket back gets a facing from fashion fabric and is joined to the front pocket back with a French seam.
Sew the front pocket back to the front trousers along the pocket opening, right sides together, trim seam allowances, turn inside out and press.
---
Sew the fly facing to the left front piece, prepare the buttonhole stand and sew five button holes. Pin the buttonhole stand to inside of the left front edge. Sew together with a curved seam from the right side.
Sew button stand to the right front edge.
---
Close pant legs and press. Close the crotch seam. Overcast all raw edges.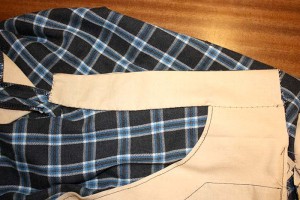 ---
Insert gusset at the saddle.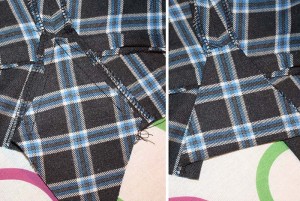 ---
For a clean finish the back seams are covered with a curtain.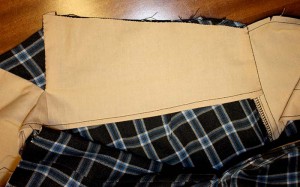 ---
The waistband is divided into two parts with a curved back edge.

---
Here you see the back straps with the buckle.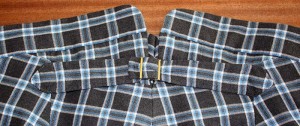 ---
For the hem cut pieces of linen at the bias and baste to the inside along the hemline.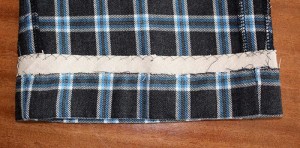 ---
Make button holes at the corners of the pockets, close pockets with small covered buttons.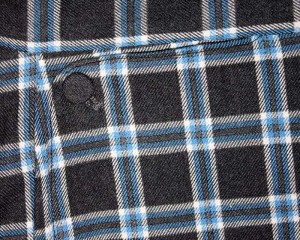 ---
Finished!
---
Next time I´ll show you the making of the waistcoat.