5. Close collar facing at center back sew to collar piece, right sides together. Trim seam allowance and clip curves. Within the range of your velvet appliques sew seam allowance with a cross stitch to outer fabric, be careful not to stitch through appliques. Press collar edge so you won´t see your seam at the outside.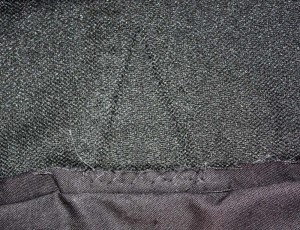 ---
6. Hem:
For the hem facing cut a strip of fabric 3 1/8" (8cm) wide, 67" (170cm), size 18-26 (EU 44-52) 79" (200cm) Long. Pin lining and outer fabric of collar at hem line, right sides together, fold front edge seam allowance towards lining. Fold in seam allowance of the loose end of collar facing. Pin facing strip to hem line, at collar seam overlap collar facing.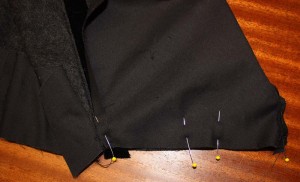 Sew hem, don't catch lining of pleats. Trim seam allowance, clip corners and turn right side out. Fold in upper seam allowance of strip and sew with a felling stitch just to lining, spread fullness when needed. Press pleats again.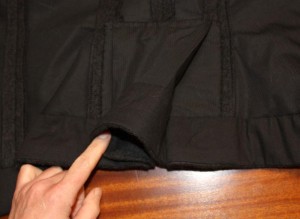 Fold in seam allowance of collar facing and sew to collar seam. Lay excess fabric to a little fold at bust point.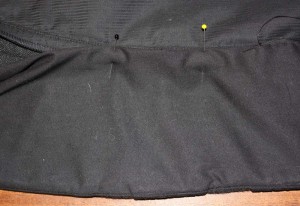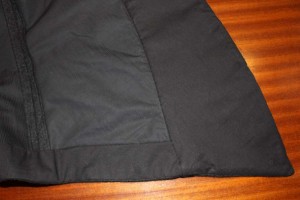 ---
7. Close back seam of sleeve, make gathering stitches at sleeve head. Close front seam, press. Mark and sew velvet appliques to cuff as described before. Close side seam of cuff and cuff lining. Sew cuff to cuff lining at upper edge, right sides together, trim seam allowance. Turn inside out, press edge so you can´t see the seam from outside. At velvet appliques fix seam allowance with a cross stitch to the outer fabric like you did before at the collar.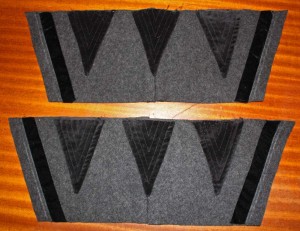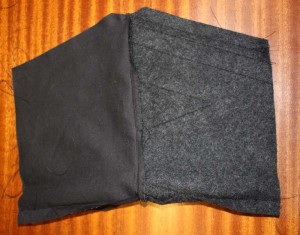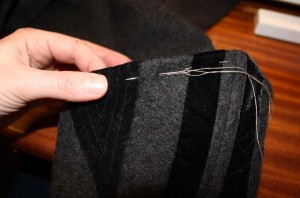 Sew cuff lining to cuff. Trim seam allowance exactly to 3/16" (1/2cm), fold cuff hem neatly to the inside of sleeve and stitch down (see profile)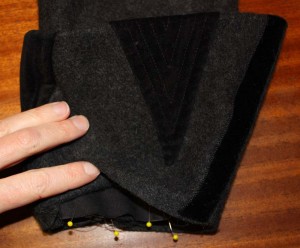 Set in sleeve according marks. With a modern sleeve you will spread most of the fullness to back armhole and sleeve head. This is a Victorian sleeve, at the back armhole insert the sleeve quite plain, spread the fullness at the sleeve head between shoulder seam and forearm pitch. Sew sleeve lining and insert to sleeve. At the armhole attach at seam allowance. At hem fold in seam allowance and sew to hem allowance of cuff. Cover with a velvet ribbon.
---
8. Sew on Hooks and Eyes, sew velvet placket to the inside of left collar piece between first and last hook. Measure waistband and sew to seam allowance of center back, sew on hooks and eyes in front.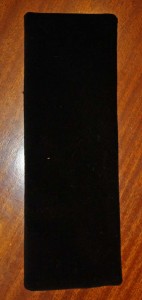 ---
9. Face stripe of velvet 79" x 6" (200 x 15cm) with sateen lining, bevel ends at an angle of 45°, make a bow and sew to center back.
You can by the pattern for this jacket here