When I was a child I often visited flea markets with my mother. She loved grubbing though masses of bedclothes and all that old linen stuff. That times I knew nothing to do with that things. So we have a lot of hidden treasures like old victorian drawers at home. The drawers where overworked though the years, the crotch seam closed and an elastic waistband added.
---
After drawing the pattern and scaling down (the owner must have been quite corpulent) it´s time to sew.
Gather the cotton lace and pin it to the lower edge of the pants legs left sides together. Gather a little bit more at the corners.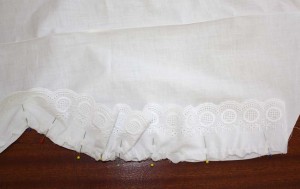 ---
Trim seam allowance and press towards the pant. For casting the raw edges prepare a strip of fabric, fold in seam allowance. Width of the strap is about 1″. Mark edges and fold the strap according to the angle of the corners. Pin strap to the lower edge of the pant covering the seam allowance and topstitch.
Close pant legs with a French seam.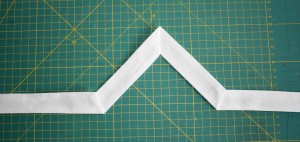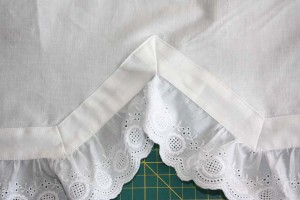 Lay pant legs on top of each other at the front edge and sew together at a length of 4″. Gather along the upper edge and sew to waistband. At the short edges of the waistband insert a twill tape for closing the drawers.