It´s quite a long time I didn´t write something, but I was working on the cosplay costumes my children asked for. My daughter always tries to choose simple looking costumes for me to sew. Nevertheless, every time I start research, that simple looking dresses turn themselves into some complicated pattern challenges. First one was Padme Amidala´s blue dress she wears on Tatooine, second was Daenerys Targaryen´s blue dress from season 4. Seems, she likes blue dresses!
Thanks to Michelle Carragher, who did most of the costume embroidery, I could manage the details.
Ich habe doch schon einige Zeit nichts mehr geschrieben! Nicht weil ich nichts nähe, sondern weil ich vor lauter Nähen nicht zum schreiben komme. Diesmal haben mich meine Kinder um neue Cosplaykostüme gebeten. Meine Tochter versucht immer Kleider auszusuchen, die einfach zu nähen wären. Doch jedes Mal wenn ich mich dann näher mit dem Kleid beschäftige entwickeln sie sich zu einer richtigen Schnittmuster Challenge. Das erste Kleid war damals Padme Amidala´s blaues Kleid auf Tatooine, das zweite nun das blaue Kleid von Daenerys Targaryen aus der 4. Staffel. Wie es aussieht, liebt sie blaue Kleider!
Ich möchte hier einen großen Dank an Michelle Carragher, sie hat die meisten Stickereien an den Kostümen der Serie gemacht, aussprechen, die auf ihrer Hompage zahlreiche Detailfotos der Kleider präsentiert. 
http://www.michelecarragherembroidery.com/Daenerys-Dragonscale-Gallery(2880136).htm
---
The dress is kind of a wrap-dress, consisting of two parts, the dress itself and the skirt half beneath. Most thinking process was how to assemble the pattern pieces in an easy way, creating the hole on the back and make the dress simple to put on an off.  There are three different blue dresses in Season 4, the version I choosed to make, is quilted all over. To create some more sculptured quilting a decided to use padding between fashion fabric and lining. I created the smock in the same way Michelle Carragher describes on her Website.
Das Kleid ist eine Art Wickelkleid, bestehend aus zwei Teilen, dem Kleid selbst und einer Rockhälfte darunter. Der schwierigste Teil war eigentlich, die einzelnen Teile auf möglichst einfache und unkomplizierte Art und Weise zusammenzufügen, auch das Loch im Rücken zu berücksichtigen und das Kleid leicht an- und ausziehbar zu machen. Insgesamt gibt es in Staffel 4 drei verschiedene Versionen des blauen Kleides. Das Kleid, für das ich mich nun entschieden habe, ist von oben bis unten gequilted. Um das Kleid plastischer zu gestalten kam zwischen Futter und Oberstoff eine Lage dünnes Vlies. Den Smock habe ich in der gleichen Weise hergestellt, wie es Michelle Carragher auf ihrer Website beschreibt. 
http://www.michelecarragherembroidery.com/How-to-Create-Dragonscale(2880143).htm
---
Just want to show you some pictures of the sewing and quilting process.
Ich möchte euch hier einige Bilder vom Entstehungsprozess zeigen.
---
Here you can see the process of quilting , can´t remember how many hours I needed to finish the whole dress:
Keine Ahnung, wie lange ich insgesamt gebraucht habe, das gesamte Kleid zu quilten.
---
The smock is made with some extra pieces of fabric and applied to the dress. The edges then are covered with the embroidery. For the embroidery I used black cotton and a golden lurex crotchet thread.
Der Smock wird aus extra Stücken Stoff gemacht und auf das Kleid appliziert. Die Kanten werden unter der Stickerei versteckt. Für die Stickereien habe ich schwarzes Baumwollhäkelgarn, sowie goldenes Lurex Häkelgarn verwendet.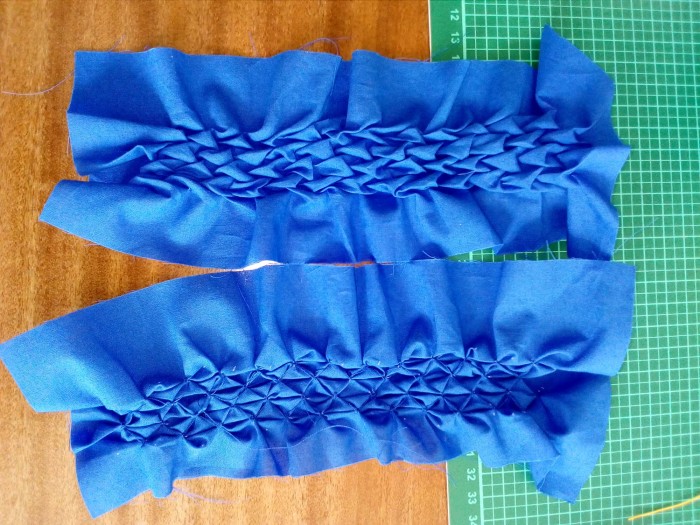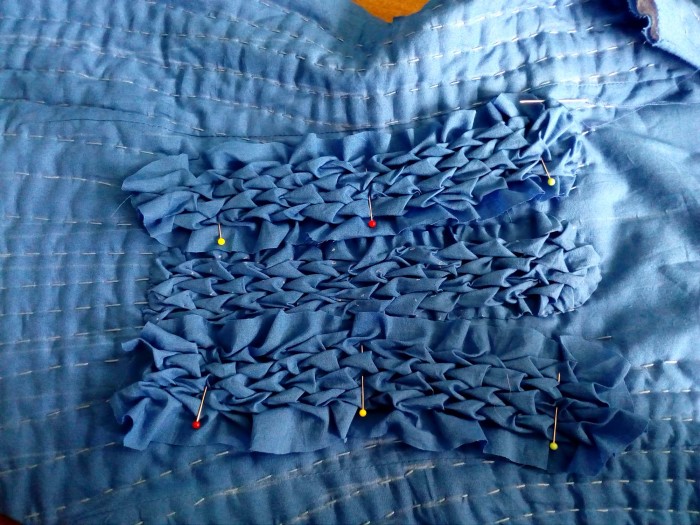 ---
My daughter has brown, long hair. She wouldn´t have a problem to dye her hair blond, but I decided to buy a front lace wig and do the hair like Daenerys.
Meine Tochter hat langes braunes Haar. Sie selbst hätte kein Problem es blond zu färben, ich habe dann aber doch lieber entschieden eine Perücke zu kaufen und sie wie Daenerys zu frisieren. 
---
Both of us need some more practice with the costume and the wig. This was my first attempt to work with a front lace wig. Nevertheless I´m very satisfied with the result!
See you on Vienna ComicCon in November!
Wir beide brauchen noch etwas Übung mit Kostüm und Perücke. Das war mein erster Versuch mit einer Front Lace Perücke zu arbeiten. Ich selbst bin mit dem Ergebnis auf jeden Fall sehr zufrieden. 
Wir sehen uns dann auf der Vienna ComicCon im November!