It´s quite a long time I didn´t write something, but I was working on the cosplay costumes my children asked for. My daughter always tries to choose simple looking costumes for me to sew. Nevertheless, every time I start research, that simple looking dresses turn themselves into some complicated pattern challenges. First one was Padme Amidala´s blue dress she wears on Tatooine, second was Daenerys Targaryen´s blue dress from season 4. Seems, she likes blue dresses!
Thanks to Michelle Carragher, who did most of the costume embroidery, I could manage the details
http://www.michelecarragherembroidery.com/Daenerys-Dragonscale-Gallery(2880136).htm
---
The dress is kind of a wrap-dress, consisting of two parts, the dress itself and the skirt half beneath. Most thinking process was how to assemble the pattern pieces in an easy way, creating the hole on the back and make the dress simple to put on an off. There are three different blue dresses in Season 4, the version I choosed to make, is quilted all over. To create some more sculptured quilting a decided to use padding between fashion fabric and lining. I created the smock in the same way Michelle Carragher describes on her Website.
.
http://www.michelecarragherembroidery.com/How-to-Create-Dragonscale(2880143).htm
---
Just want to show you some pictures of the sewing and quilting process.
---
Here you can see the process of quilting , can´t remember how many hours I needed to finish the whole dress:
---
The smock is made with some extra pieces of fabric and applied to the dress. The edges then are covered with the embroidery. For the embroidery I used black cotton and a golden lurex crotchet thread.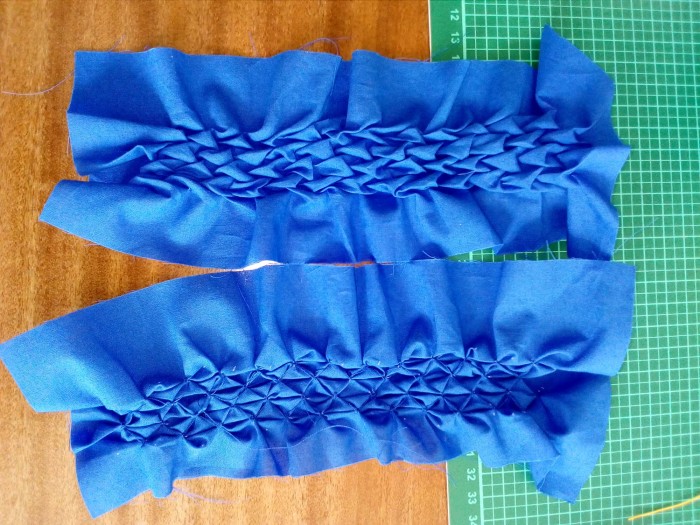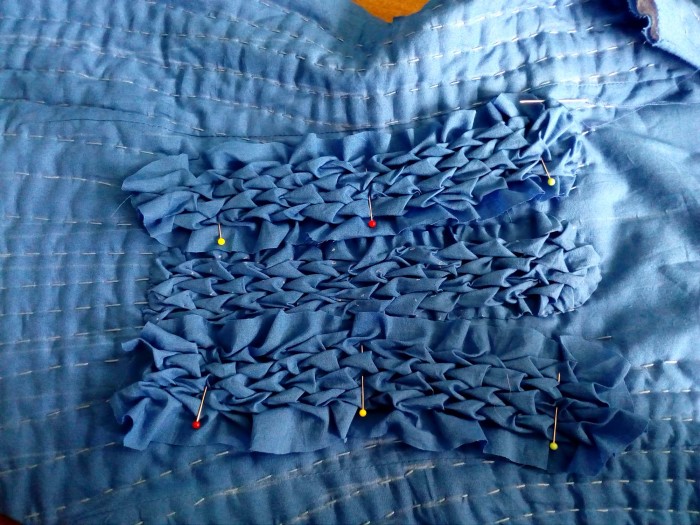 ---
My daughter has brown, long hair. She wouldn´t have a problem to dye her hair blond, but I decided to buy a front lace wig and do the hair like Daenerys
---
Both of us need some more practice with the costume and the wig. This was my first attempt to work with a front lace wig. Nevertheless I´m very satisfied with the result!
See you on Vienna ComicCon in November!