#1014 Late Victorian Corset and Chemise about 1880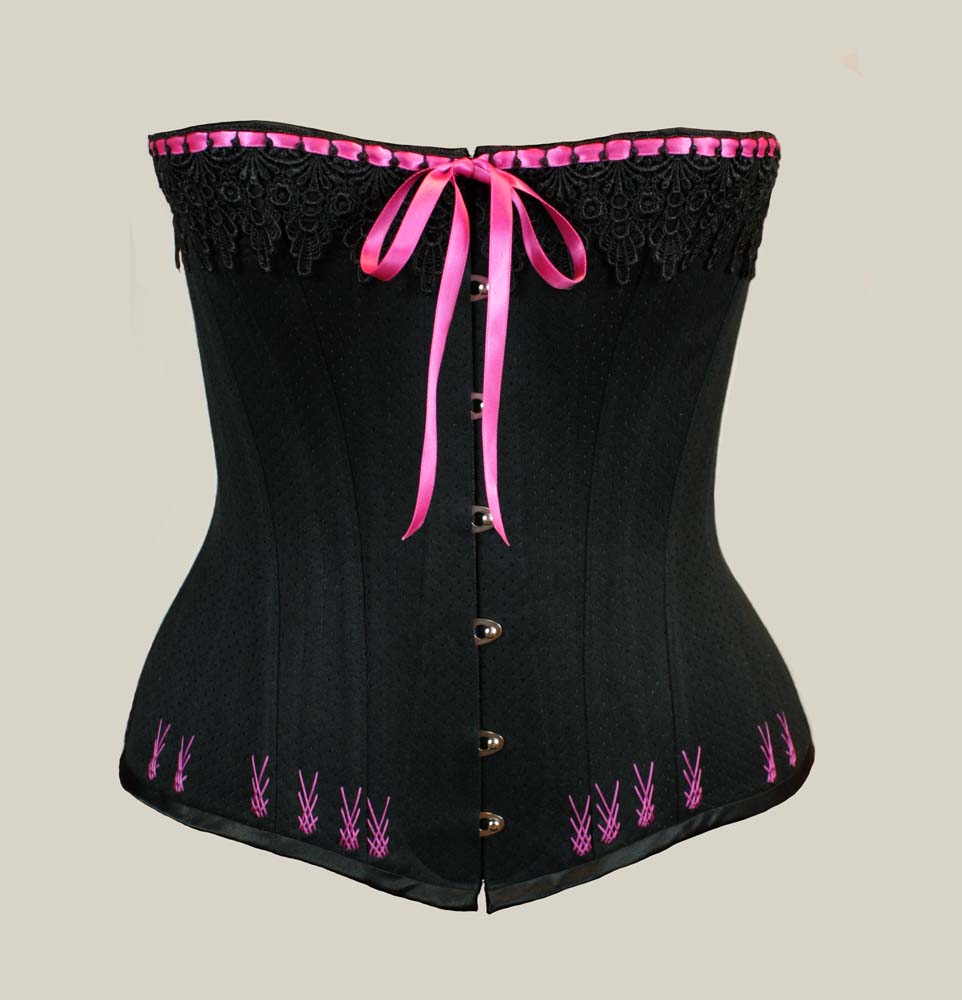 This is a sewing pattern for a late Victorian Corset about 1880 (half bust) and a matching chemise, wearable for presentations until 1900

This sewing pattern shows an 1880´s corset with five panels, adapted from an extant pattern. The corset should be made from Coutil and lined with a midweight cotton fabric. All seams are boned, as well as along both sides of the lacing. Additional boning can be added as desired, using boning channels made from Coutil strips.
At the front a spoon busk or a wide straight busk is provided, but can be replaced by a narrow one.

Also suitable for steampunk costumes.

The pattern comes with detailed and illustrated sewing instructions in English and German. It is a multi size pattern, you can choose between US 8-18 (EU 34-44) and US 20-30 (EU 46-56). A seam allowance of 5/8" (1,5cm) is inculded in my patterns.
Size: EU 34-56 / US 8-30
Yardage:
Recommended Fabrics:

Corset:
Fashion fabric: Coutil or other strong fabrics
Lining: midweight cotton fabric
Chemise: lightweight cotton fabrics

Fabric required:

Size US 8–18 (EU 34-44):

Corset:
Fashion fabric: 1yd (90cm) with a width of 55" (140cm)
Lining : 0.5yd (50cm) with a width of 55" (140cm)
Plastic whalebone or spiral wire 1/4" (7mm): 7.7 yd (7m) + end caps
Plastic coated metal boning 3/8" (10mm): 1.7yd (1,5m)
Busk: 13" (33cm) this is an aproximate value, length of busk is determinded at your mock-up
Twill tape or grosgrain ribbon: Width 3/4" to 1" (2 to 2,5cm): 1.1yd (1m)
Bias binding: 2.8yd (2,5m)
Grommets with washers Ø 4mm
Corset lacing: 6-6.5yd (5-6m)

Chemise:
Fashion fabric: 2.2yds. 51" wide (2m with a width of 130cm)
Cotton lace: 1.5yds 5/8"-3/4" wide (1,3m with a width of 1,5-2cm); 1.5yds 1"-1 1/2" wide (1,3m with a width of 2,5-4cm)
Cotton tape 3/8" (1cm) wide: 4yds. (3,5m), 2 linen buttons

Size US 20-30 (EU 46-56):

Corset:
Fashion fabric: 1.2yds (1tm) with a width of 55" (140cm)
Lining : 0.5yd (50cm) with a width of 55" (140cm)
Plastic whalebone or spiral wire 1/4" (7mm): 7.7 yd (7m) + end caps
Plastic coated metal boning 3/8" (10mm): 1.7yd (1,5m)
Busk: 13" (33cm) this is an aproximate value, length of busk is determinded at your mock-up
Twill tape or grosgrain ribbon: Width 3/4" to 1" (2 to 2,5cm): 2yds. (2m)
Bias binding: 4yds (3,5m)
Grommets with washers Ø 4mm
Corset lacing: 6.5 - 7yds (6-7m)

Chemise:
Fashion fabric: 2.4yds. (2.1m) 55" (140cm) wide
Cotton lace: 5/8"-3/4" (1,5-2cm) wide: 1.8yds (1,6m); 1"-1 1/2" (2,5-4cm) wide: 1.7yds (1,5m)
Cotton tape 3/8" (1cm) wide: 4yds. (3,5m), 2 linen buttons