#0914 Victorian Jacket (Paletot)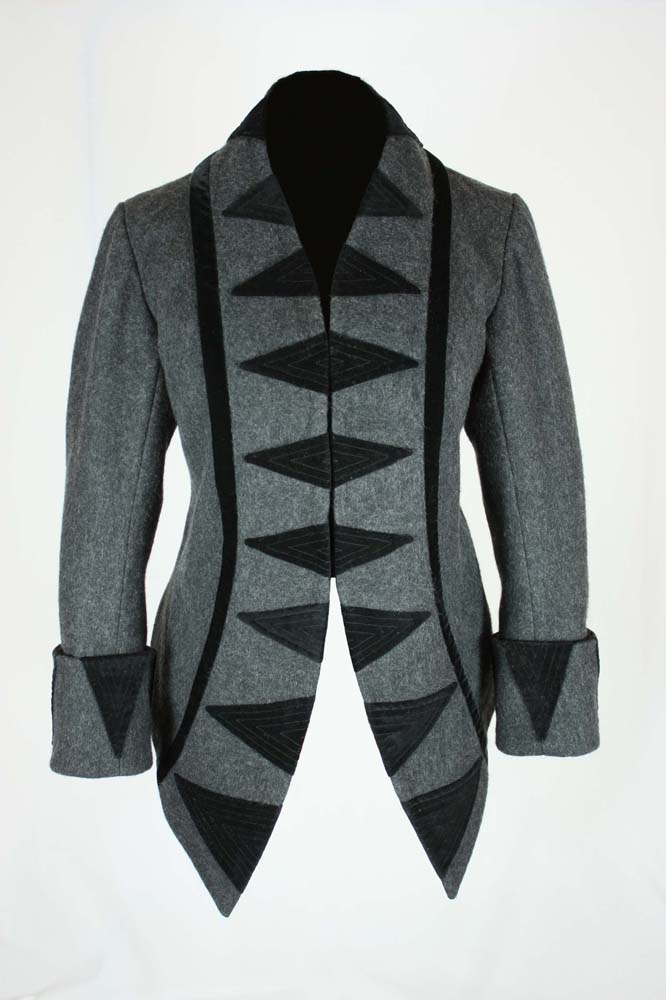 This is a sewing pattern for a Ladies jacket, worn around 1876.

This kind of jacket, the Paletot, became fashionable in the middle of the 19th century. Shorter than a coat, but longer than a jacket, the Paletot followed the shape of fashion, with flaring skirts over a crinoline dress in the middle of the century, later with a straight front and a peplum at the back over a bustle dress.
This paletot pattern is based on a model of "Der Bazar" from 1876. The jacket has a peplum at the back to fit over a bustle, decorated with a bow made from velvet. It has a straight front, closed edge to edge with hooks and eyes and a placket underneath, a hidden waistband ensures a tight fit at the back. The wide stand-up collar is cut in one piece with the front panels and decorated with triangles from velvet as well as the sleeve cuffs. The sleeves are wide, a bit baggy at the elbow as usual at the time. The shoulder seam is moved to the back, featuring a wide and sloping shoulder line without any padding, the sleeves are inserted with little ease into the armhole.

Can be worn with or without a corset and bustle.
Also suitable for cosplay or steampunk costumes.

The pattern comes with detailed and illustrated sewing instructions in English and German. It is a multi size pattern, you can choose between US 8-18 (EU 34-44) and US 20-30 (EU 46-56). A seam allowance of 5/8" (1,5cm) is inculded in my patterns.

Size: 34-52(US 8-26)
Yardage: Recommended fabrics: Fashion fabric: woolen coat fabrics, broadcloth Lining: light to midweight cotton (Sleeve lining: smooth lining fabrics) Appliques and bow: velvet / sateen Yardage: US 8-18 (EU 34-44): Fashion fabric: 2.5 yds. with 55" fabric width / 2,3m with 140cm fabric width Lining: 2 yds. with 55" fabric width / 2m with 140cm fabric width (Sleeve lining: 0.8 yds. with 55" fabric width / 0,7m with 140cm fabric width ) Velvet: 0.7 yds. with 55" fabric width / 0,7m with 140cm fabric width Sateen: 0.4 yds. with 55" fabric width / 0,4m with 140cm fabric width Grossgrain ribbon: 1,1 yd / 1m, hooks and eyes US 18-26 (EU 44-52): Fashion fabric: 3.2yds. with 55" fabric width / 2,9m with 140cm fabric width Lining: 2.2 yds. with 55" fabric width / 2m with 140cm fabric width (Sleeve lining: 0.8 yds. with 55" fabric width / 0,7m with 140cm fabric width ) Velvet: 0.7 yds. with 55" fabric width / 0,7m with 140cm fabric width Sateen: 0.4 yds. with 55" fabric width / 0,4m with 140cm fabric width Grossgrain ribbon: 2 yds / 2m, hooks and eyes