Empire / Regency evening dress 1810to 1815 Sewing Pattern #0422 Size US 8-30 (EU 34-56)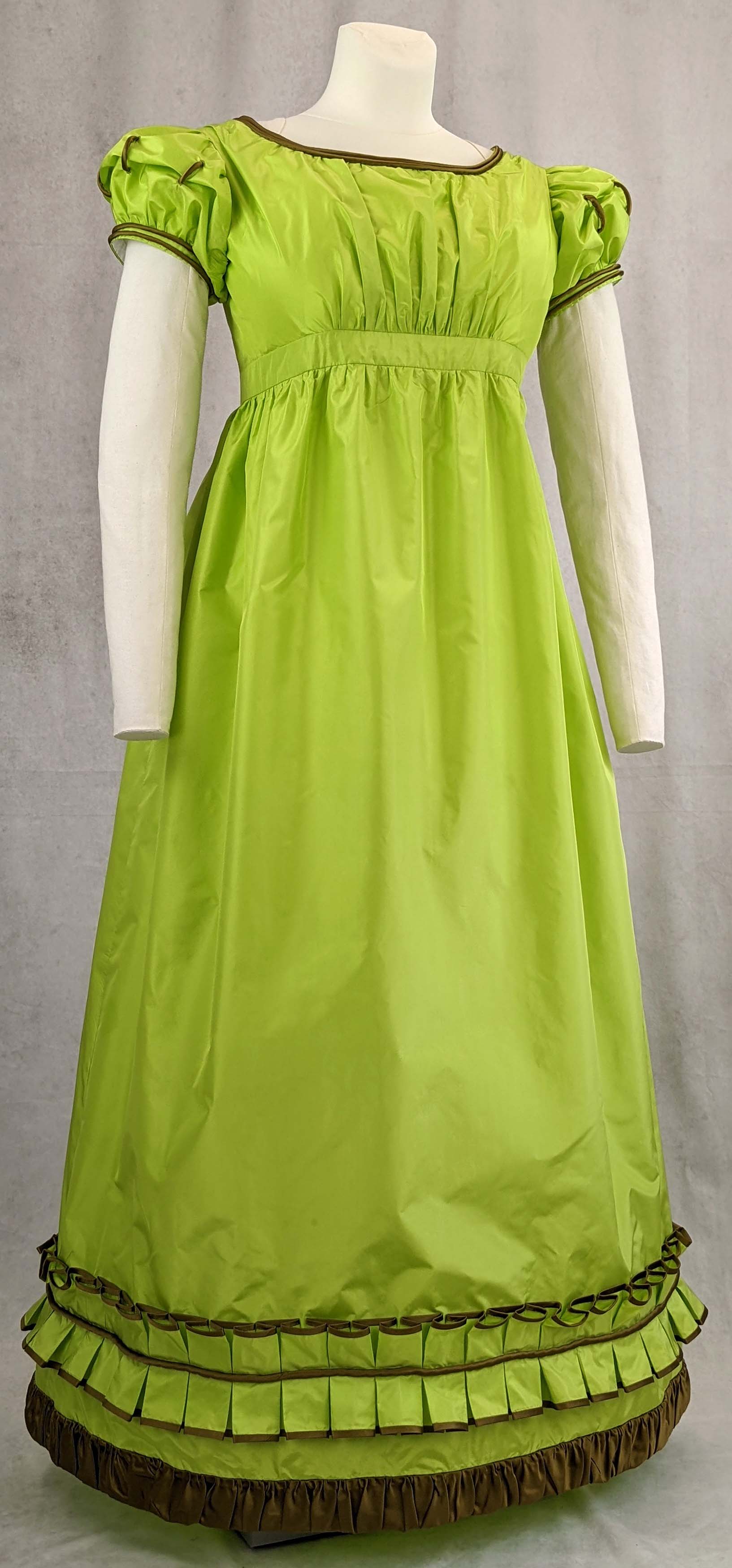 This is a sewing pattern for an evening dress from 1810 to 1815

Please scroll down for yardage and pattern information.

The top layer of the bodice is gathered at the center front and back, and mounted on a tight-fitting lining from cotton. The bodice is closed with hooks and eyes at the center back.
It has small, puffed sleeves, gathered by contrasting fabric tubes which are leaded through handsewn eyelets. Also, the cuffs and neckline are decorated with these, as well as the frill at the hem.

Fitted to be worn over stays or a corset.
Size: EU 34-56 / US 8-30
Yardage:
Recommended fabric:
Fashion fabric: (silk) taffeta Contrasting fashion fabric: (silk) satin (duchesse)
Flatlining: silk organza or lightweight cotton
Lining : midweight (polished) linen or cotton fabric
Fabric required:

US 8-18 (EU 34-44):
Fashion fabric: 4 yds. (3.7 m) with a width of 55" (140 cm)
Contrasting fabric: 1yd. (1m) with a width of 55" (140 cm)
Flatining: 3.3 yds. (3 m) with a width of 55" (140 cm)
Lining: 1yd. (1m) with a width of 55" (140 cm)
Wool felt cord Ø 1/8-3/16" (3-5 mm): 15 yds. (15 m)
hooks and eyes

US 20-30 (EU 46-56):
Fashion fabric: 5.2 yds. (4.7 m) with a width of 55" (140 cm)
Contrasting fabric: 1.1yd. (1m) with a width of 55" (140 cm)
Flatining: 4.8 yds. (4.3 m) with a width of 55" (140 cm)
Lining: 1yd. (1m) with a width of 55" (140 cm)
Wool felt cord Ø 1/8-3/16" (3-5 mm): 15 yds. (15 m)
hooks and eyes