Day Dress 1837-40 Sewing Pattern #0421 Size US 8-30 (EU 34-56)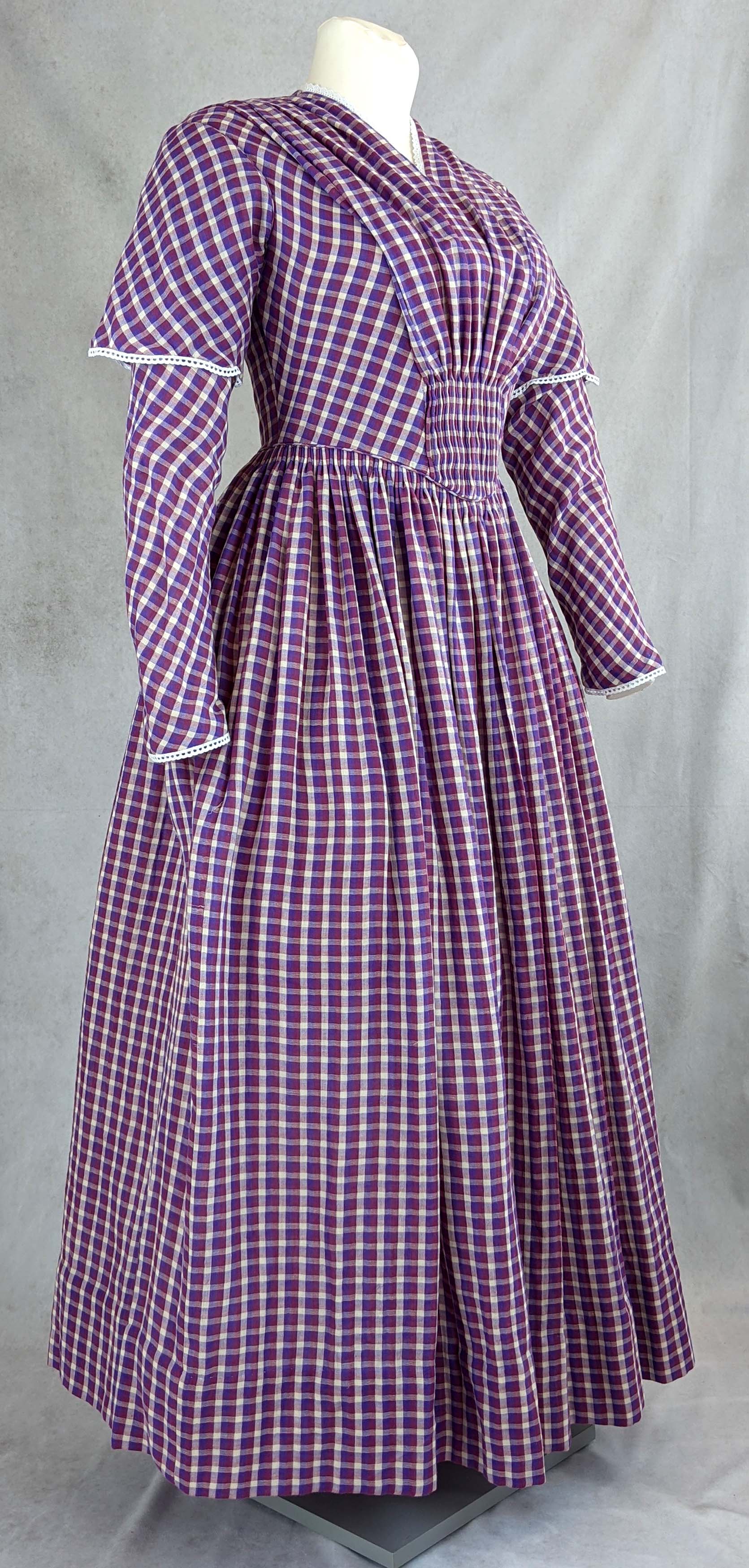 This is a sewing pattern for a day dress from 1840-45.
This dress is based on extant day dresses and daguerreotypes from 1840 to 1845.
The dress features some typical details of the era with two different neckline options.
The fashion fabric of the bodice is mounted on a tight-fitting lining bodice from a polished cotton fabric and closes at the center back with hooks and eyes. The bottom edge of the bodice, the neckline, and armholes are piped with the same fabric.
The skirt is made from several panels of fabric, cartridge pleated and attached to the bodice (View A), or knife pleated and mounted to a narrow waistband (View B).
The one-piece sleeve is cut on the bias and has an optional over-sleeve with a scalloped edge, trimmed with narrow cotton lace.
I recommend searching the internet for extant dresses and daguerreotypes from the era for inspiration.


This dress should be worn with a matching corset and petticoat.

5/8" (1,5 cm) seam allowance is included, except where noted on individual pattern pieces.

Also suitable for cosplay or steampunk costumes.

The pattern comes with detailed and illustrated sewing instructions in English and German.
This is a multi size pattern, you can choose between sizes US 8-18 (EU 34-44) and US 20-30 (EU 46-56).

Size: EU 34-56 / US 8-30
Yardage:
Recommended fabric:
Dress: light to midweight cotton fabrics like lawn, muslin or calico
Lining : midweight (polished) cotton fabric

Fabric required:

US 8-18 (EU 34-44):
View A and B:
Dress: 5 yds. (4.5m) with a width of 51" (130 cm)
Lining: 1.5 yds. (1.3 m) with a width of 51" (130 cm)
Piping cord Ø 1/16" (1-2 mm): 4.5 yds. (4 m)
Narrow cotton lace - sleeves: 2yds. (2m)
hooks and eyes
Cotton lace or a lace collar for the neckline

US 20-30 (EU 46-56):
Dress A or B: 6.3 yds. (5.7m) with a width of 51" (130 cm)
Lining A: 1.1 yds. (1m) with a width of 51" (130cm)
Lining B: 2 yds. (1.7 m) with a width of 51" (130 cm)
Piping cord Ø 1/16" (1-2 mm): 5.5 yds. (5 m)
Narrow cotton lace - sleeves: 2yds. (2m)
hooks and eyes
Cotton lace or a lace collar for the neckline