Day Dress 1837-40 Sewing Pattern #0221 Size US 8-30 (EU 34-56)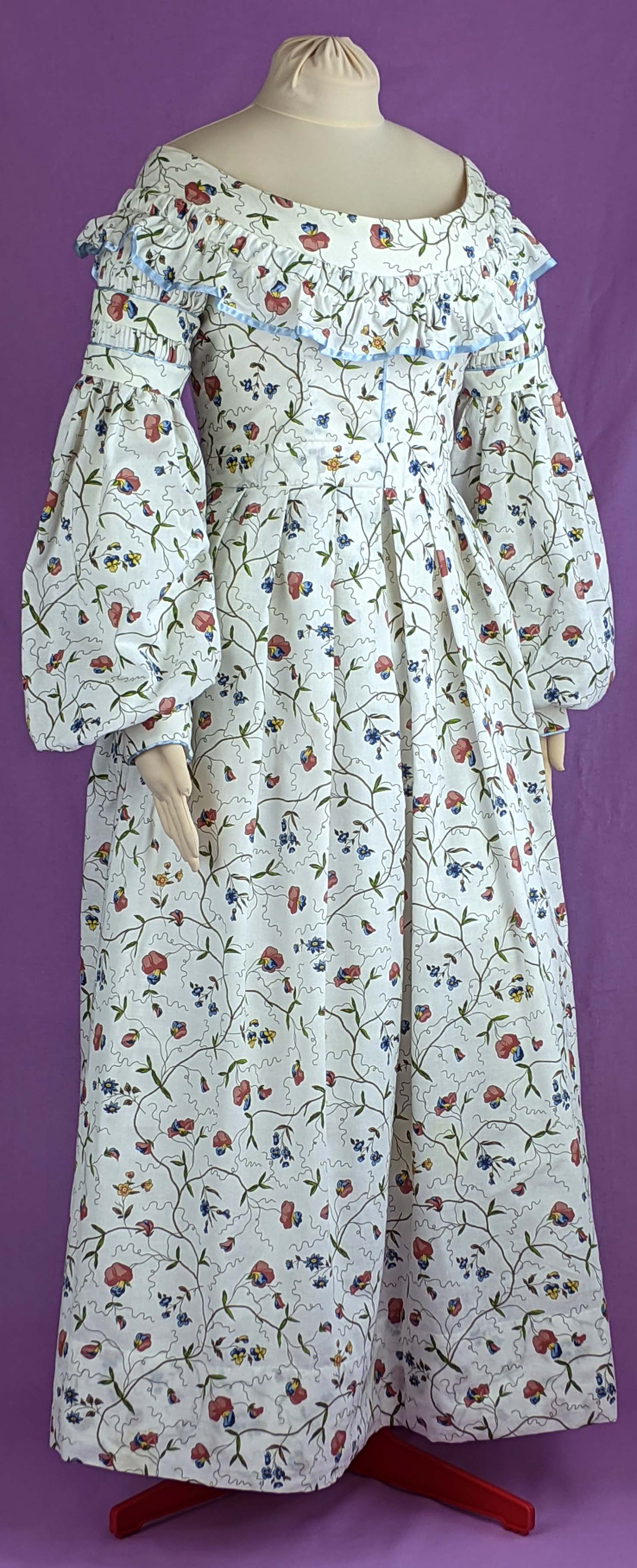 The dress is based on an extant day dress from the Victoria and Albert Museum, London, and dated from 1837 to 1840, made of a floral printed challis.
The dress features some typical details of the time period, like a wide and rounded neckline, contrasting piped seams and the wide sleeves pleated to fit round of the top of the arm and held in place by two piped bands of fabric, cut on the bias. At the wrist, the excess width of the over-length sleeve is gathered to fit a narrow cuff.
The fashion fabric of the bodice is mounted on a tight fitting lining bodice from a polished cotton fabric. The front panel from the fashion fabric is divided at the center front and stitched together again with a piped seam. The neckline is decorated with a ruffle, cut on the bias and the loose edge neatened with the same silk ribbon as used for the piping. The bodice closes at the center back with hooks and eyes.
The skirt is made from several widths of fabric. At the front and side portion of the bodice, the skirt is laid into regular knife pleats, the remaining width of the skirt is gathered to fit the smaller back portion of the bodice. If wanted, the gathering can be replaced by small, rolled pleats or cartridge pleating.

This dress should be worn with a matching corset and petticoat.
Size: EU 34-56 / US 8-30
Yardage:
US 8-18 (EU 34-44):
Dress: 5 yds. (4.6 m) with a width of 51" (130 cm)
Lining: 1.2 yd. (1.1 m) with a width of 51" (130 cm) P
iping cord Ø 1/16" (1-2 mm): 4 yds. (3.5 m)
(Silk) sateen ribbon, 3/4" (2 cm) wide: 6.8 yds. (6 m)
hooks and eyes

US 20-30 (EU 46-56):
Dress: 7 yds. (6.3 m) with a width of 51" (130 cm)
Lining: 1.8 yds. (1.6 m) with a width of 51" (130 cm)
Piping cord Ø 1/16" (1-2 mm): 4.5 yds. (4 m)
(silk) sateen ribbon, 3/4" (2 cm) wide: 8 yds. (7.5 m)
hooks and eyes