1840s Morning or Working Womans Dress Sewing Pattern #0121 Size US 8-30 (EU 34-56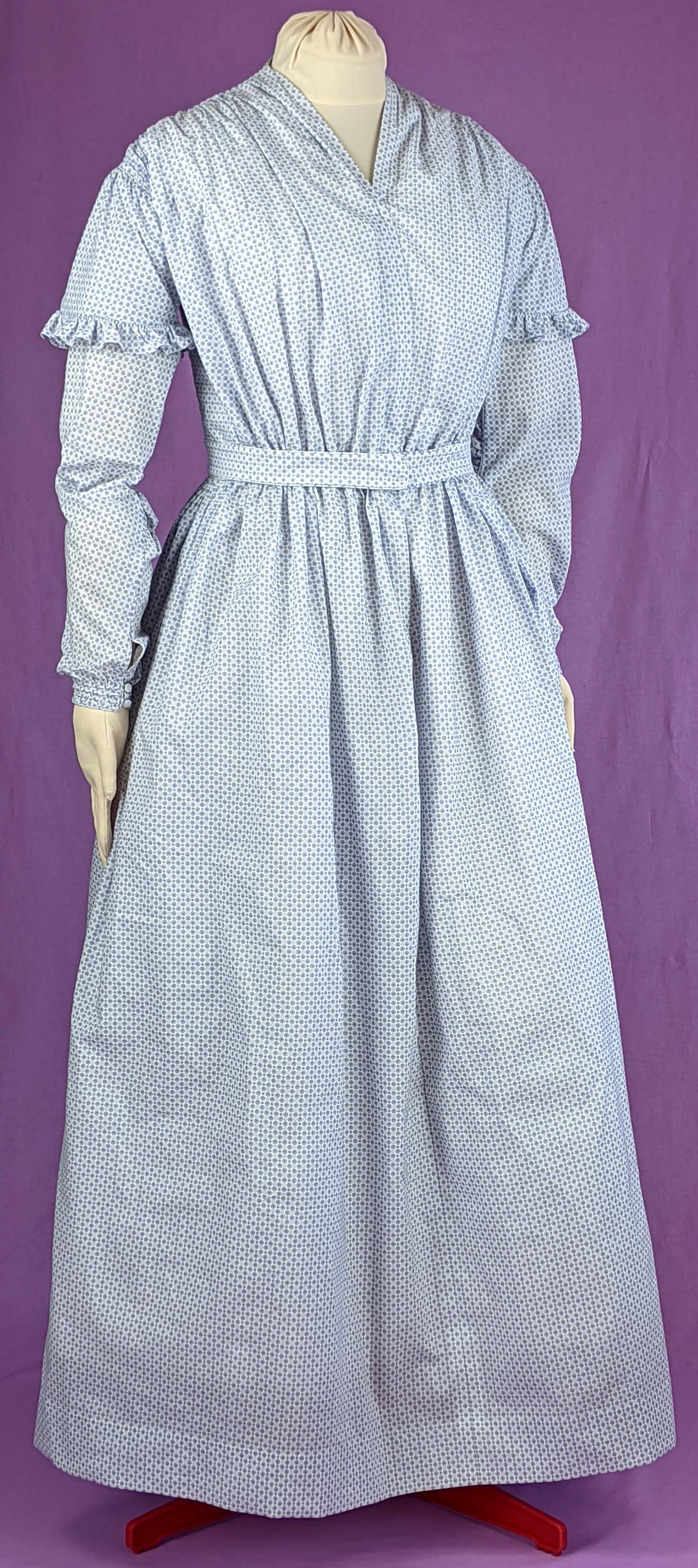 This is a sewing pattern, based on an extant dress from about 1840.


This dress is a replica of a beautiful extant dress from the 1840s, made from a fine block printed muslin. This kind of dress would have been worn in the morning, on hot summer days, or as a maternity dress, and is called a wrapper.

Made from printed calico fabric this style was worn by women of the working class during the pre-civil war era.

The original dress is completely hand-stitched. The fashion fabric is mounted on a tight-fitting lining bodice and closes at the center front, the fullness of the front panel is gathered with drawstrings to fit the waist.

The skirt is made from several panels of fabric and attached to the bodice, plain at the front, cartridge pleated at the back portion.

The one-piece sleeve is cut on the bias and has an over-sleeve, trimmed with a narrow ruffle from fashion fabric. Most of the seams and edges have a very narrow piping as usual during the era.

This dress can be worn without a corset, but over a chemise and a corded petticoat.

5/8" (1,5cm) seam allowance is included, except where noted on individual pattern pieces. Transfer all markings and notches carefully before cutting the fabric. Always do a mock-up first. This is a hand-sewing pattern, many steps can only be done by hand!

Also suitable for cosplay or steampunk costumes.

The pattern comes with detailed and illustrated sewing instructions in English and German.

This is a multi size pattern, you can choose between sizes US 8-18 (EU 34-44) and US 20-30 (EU 46-56).
Size: EU 34-56 / US 8-30
Yardage:
Recommended fabric:
Dress: light to midweight cotton fabrics like lawn, muslin or calico
Lining : midweight cotton fabric

Fabric required:

US 8-18 (EU 34-44):
Dress:4.5yds. (4.2m) with a width of 51" (130cm)
Lining: 1yd. (1m) with a width of 51" (130cm)
Piping cord Ø 1/16" (1mm): 15yds. (15m)
Small blouse buttons: 4-12 (depending on the selected clousure)
optional hooks and eyes

US 20-30 (EU 46-56):
Dress:6yds. (4.2m) with a width of 51" (130cm)
Lining: 1yd. (1m) with a width of 51" (130cm)
Piping cord Ø 1/16" (1mm): 20yds. (20m)
Small blouse buttons: 4-12 (depending on the selected clousure)
optional hooks and eyes