Victorian Wrapper Dress about 1870 Sewing Pattern #0919 Size US 8-30 (EU 34-56)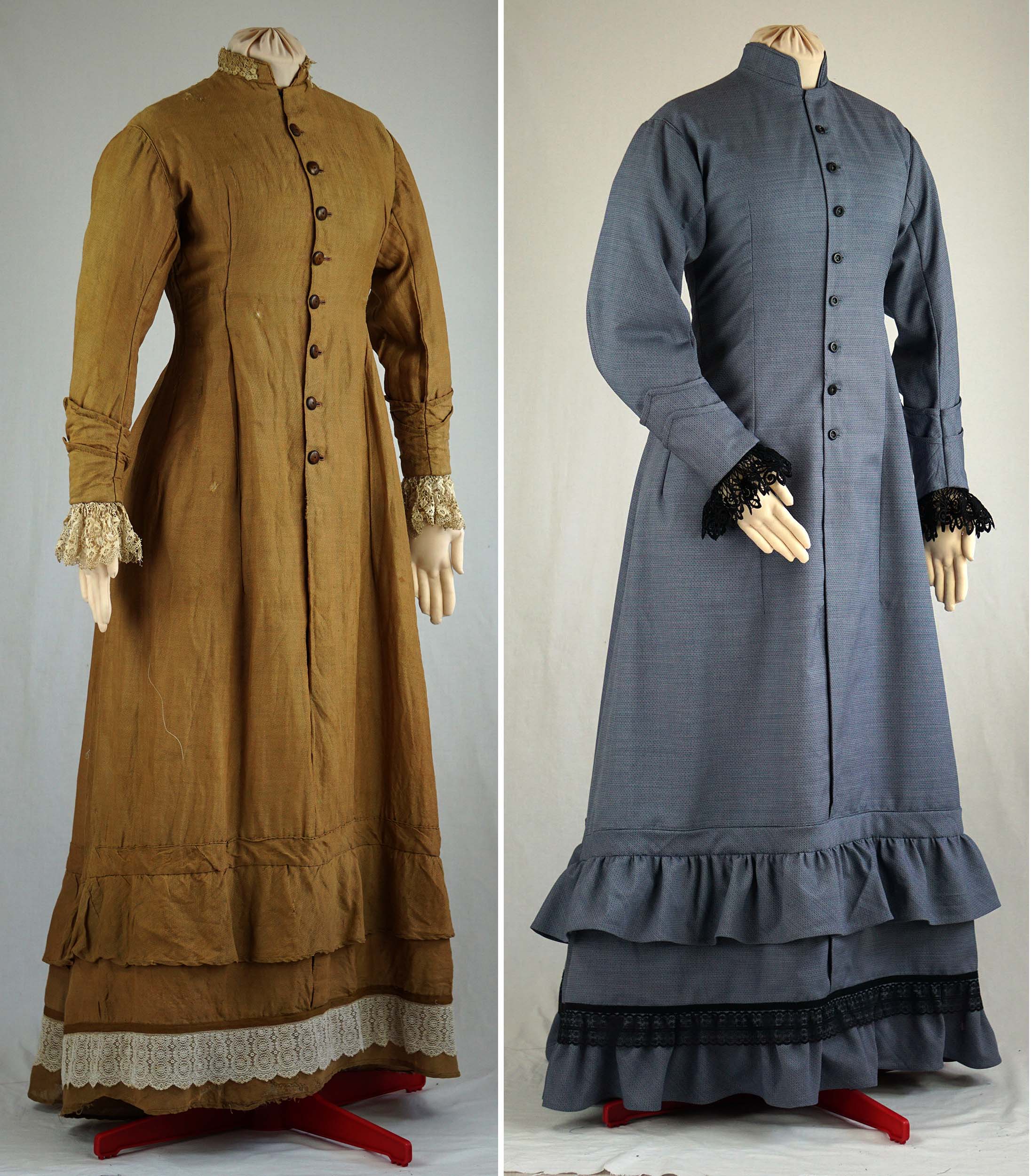 This is a digital sewing pattern for a late 1870´s Wrapper dress.

Wrapper dresses made from cotton are simple dresses, worn by working women. First extant dresses of this style can be found from about 1840. The special feature of the dress is a looser fit and buttons in the front for getting dressed and undressed easily.
But the wrapper was not a dress of the poor and working women only. Made from fine materials like silk or wool fabrics it served as a morning or house dress for well situated women.
Wrappers were informal dresses, but their shape and cut followed the current fashion.
This wrapper is a replica of a heavily worn extant dress made from a fine light brown wool fabric, maybe its origin is Ireland. It´s shape suggests to be a dress of the late 1870´s, with room for a bustle at the back.

Fitted to be worn over a corset and bustle.

Also suitable for steampunk costumes.

The pattern comes with detailed and illustrated sewing instructions. It is a multi size pattern, you can choose between US 8-18 (EU 34-44) and US 20-30 (EU 46-56).
Size: EU 34-56 / US 8-30
Yardage: Recommended fabrics:
Fashion fabric: light to midweight wool or cotton fabrics,
Lining: lightweight cotton fabric

Yardage:
US 8-18 (EU 34-44):
Fashion fabric: 5.5 yds. (5m) with a width of 55" (140cm)
Lining: 4.1 yds. (3.8m) with a width of 55" (140cm)
Buttons: Ø 3/4"-1" (1,5-2cm): 9 pcs.
Snap fasteners: 2pcs.
Hook: 1pcs
Lace (sleeves) circa 3" (8cm) wide: 1yd (1m)
Lace (collar): 0.6yds. (0.5m)
Lace (hem) circa 3" (8cm) wide: 3.5-5.5yds. (3-5m)

US 20-30 (EU 46-56):
Fashion fabric: 6.5 yds. (6m) with a width of 55" (140cm)
Lining: 5 yds. (4.5m) with a width of 55" (140cm)
Buttons: Ø 3/4"-1" (1,5-2cm): 9 pcs.
Snap fasteners: 2pcs.
Hook: 1pcs
Lace (sleeves) circa 3" (8cm) wide: 1-1.5yds (1-1.5m)
Lace (collar): 1yd. (0.7m)
Lace (hem) circa 3" (8cm) wide: 4-6yds. (3.5-5.5m)