Victorian Edwardian Waistcoat Sewing Pattern #0516 Size US 34-48 (EU 44-58) PDF Download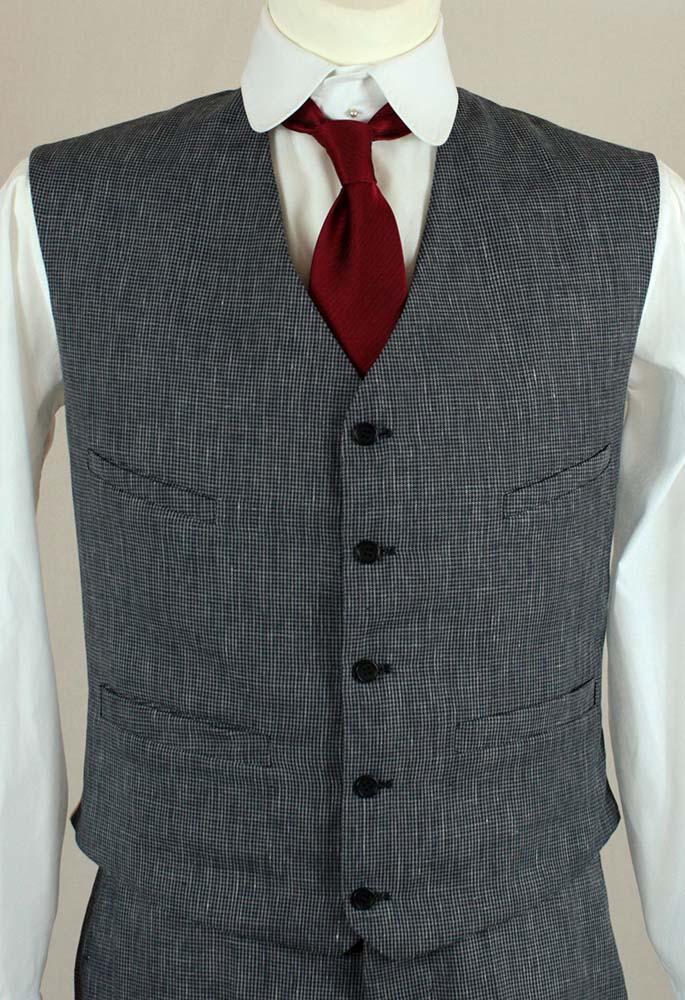 This is a sewing pattern for a collarless waistcoat worn between 1860 and 1900.



The collarless waistcoat is and was the most popular pattern, easy to sew and comfortable to wear.

In contrast to modern waistcoats Victorian waistcoats have a collar stand made from the same material as the front. For the collar stand a strap of fabric was sewn to the front piece, it also can be grown-on. In this case the corner will be sewn as any other pattern with a grown-on stand-up collar. This sewing pattern has a grown-on collar stand.

This instruction shows you the classic tailoring method with interfacing and edge binding. A modern working can be chosen and all interfacing can be replaced by fusible as desired.

The back is made from lining fabric as today. Commonly waxed cotton fabric was used for the back, the buckle straps and for lining.

Typically, the waistcoat has a pocket at each side and a watch pocket on the left side of the chest. All pockets are made as welt pockets.


Also suitable for steampunk or cosplay costumes.





The pattern comes with detailed and illustrated sewing instructions in English and German.



It is a multi size pattern, you can choose between US 34-40 (EU 44-50) and US 42-58 (EU 52-58).



This is a PDF-Download pattern, immediately after payment you can download both sizes of the pattern.


Size: EU 44-58 / US 34-48
Yardage: All sizes:
Front: 1.1yds (1m) with a width of 52" (130cm), provide more for fabrics with large prints
Lining and back: 1.5yds. (1.4m) with a width of 52" (130cm)
Interlining: 0.9yds. (0.8m) with a width of 52" (130cm)
6 Buttons 5/8" (1,5cm), Cotton tape 1/2" (1cm) wide