Edwardian Straigth Front Corset Sewing Pattern #1015 Size US 8-30 (EU 34-56) Pdf Download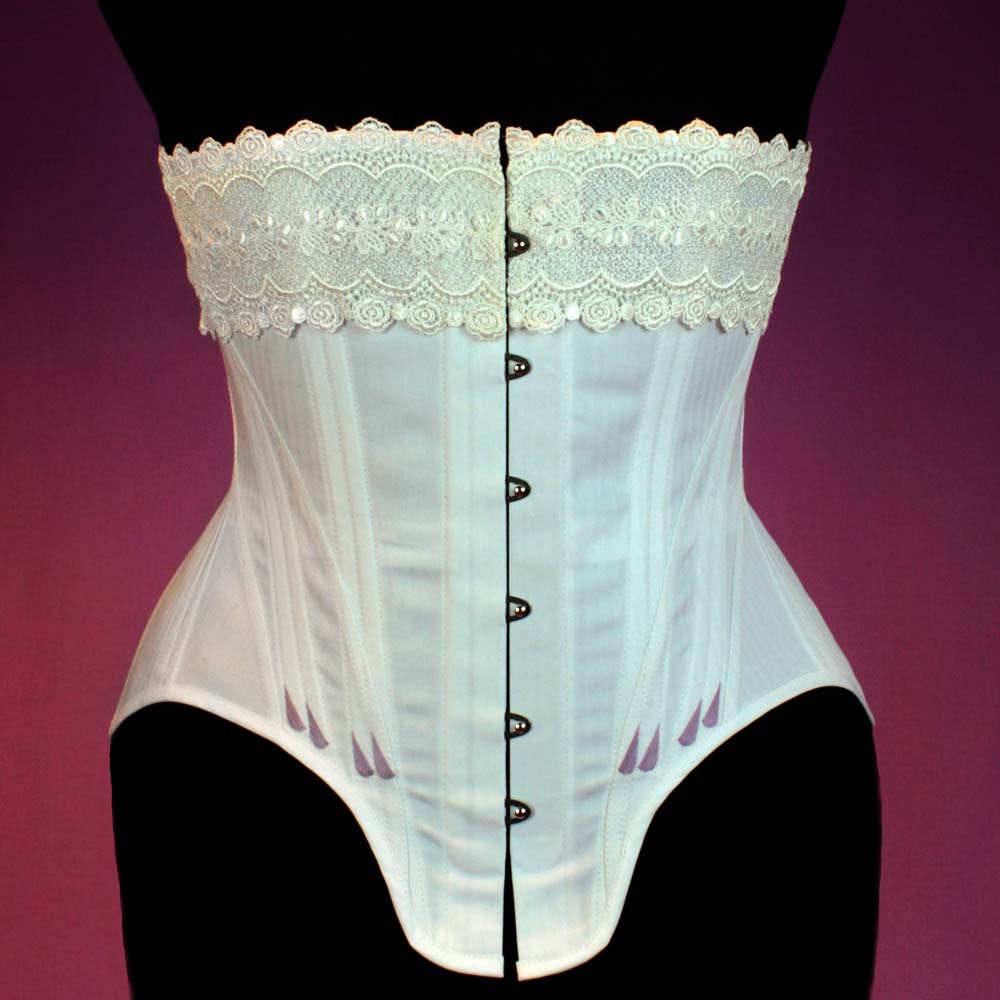 This is a sewing pattern for an Edwardian Straight Front Corset worn from 1901 to 1910 including the pattern for Edwardian drawers.

The straight front corset became popular about 1901 as a "healthier" advancement of the classic hour-glass corset. It was developed by Inez Gaches-Sarraute, she had a degree in medicine as well as she was a corsetiere. The new corset should support the lower part of the abdomen, leaving enough room for breathing ending just below the breast point or lower.

This sewing pattern shows an early 1900´s straight front corset. Compared to many preserved corset patents from that time, the shape is simplified into five panels, without any gussets, suitable for a beginner in corsetry sewing. The corset makes a moderate change in posture, giving the modern body the right shape for a contemporary presentation. The relation between waist and hip measurement is moderate, a hip padding underneath the corset is not provided, but can be worn over the corset.
This is a single layer corset and should be made of corsetry coutil. All seams between the panels are made as flat felled seams. The boning of a straight front corset does not follow the seams as usual the years before.

Also suitable for steampunk costumes.

The pattern comes with detailed and illustrated sewing instructions in English and German. It is a multi size pattern, you can choose between US 8-18 (EU 34-44) and US 20-30 (EU 46-56). A seam allowance of 5/8" (1,5cm) is inculded in my patterns.

Size: EU 34-56 (US 8-30)
Yardage:
Recommended fabrics: Corsetry Coutil, cotton voile/lawn for the drawers

Yardage:

US 8–18 (EU 34-44):

Corsetry Coutil: 1yd (0,9m), 55" (140cm) wide
Plastic whalebone 7mm: 7.7 yd (7m)
Plastic coated metal boning 3/8" (10mm): 1.7yd (1,5m)
Busk: 12"-13" (31-33cm) long, depending on your height.
Twill tape or grosgrain ribbon 3/4" (2cm) wide: 1.1yd (1m)
Bias binding: 2.8yd (2,5m)
Grommets with washers Ø 4mm
Corset lace: 6-6.5yd (5-6m), Suspenders 4x, lace trim

Drawers: 2yds. (2m), 55" (140cm) wide
Cotton lace 2" (5cm) wide: 5.5yds (5m)
Embroiderd swiss insertion lace : 3yds. (3m)
Narrow twill tape: 2yds. (2m)

US 20-30 (EU 46-56):
Corsetry Coutil: 1.1yds (1m), 55" (140cm) wide
Plastic whalebone 7mm: 7.7 yd (7m)
Plastic coated metal boning 3/8" (10mm): 1.7yd (1,5m)
Busk: 12"-13" (31-33cm) long, depending on your height.
Twill tape or grosgrain ribbon 3/4" (2cm) wide: 2yds (2m)
Bias binding: 3.3yds (3m)
Grommets with washers Ø 4mm
Corset lace: 6.5-8yds (6-7m), Suspenders 4x, lace trim

Drawers: 2.5yds. (2,5m), 55" (140cm) wide
Cotton lace 2" (5cm) wide: 6.6yds (6m)
Embroiderd swiss insertion lace : 3.5yds. (3.2m)
Narrow twill tape: 2yds. (2m)