Victorian Underwear Sewing Pattern #1115 Size US 8-30 (EU 34-56) Pdf Download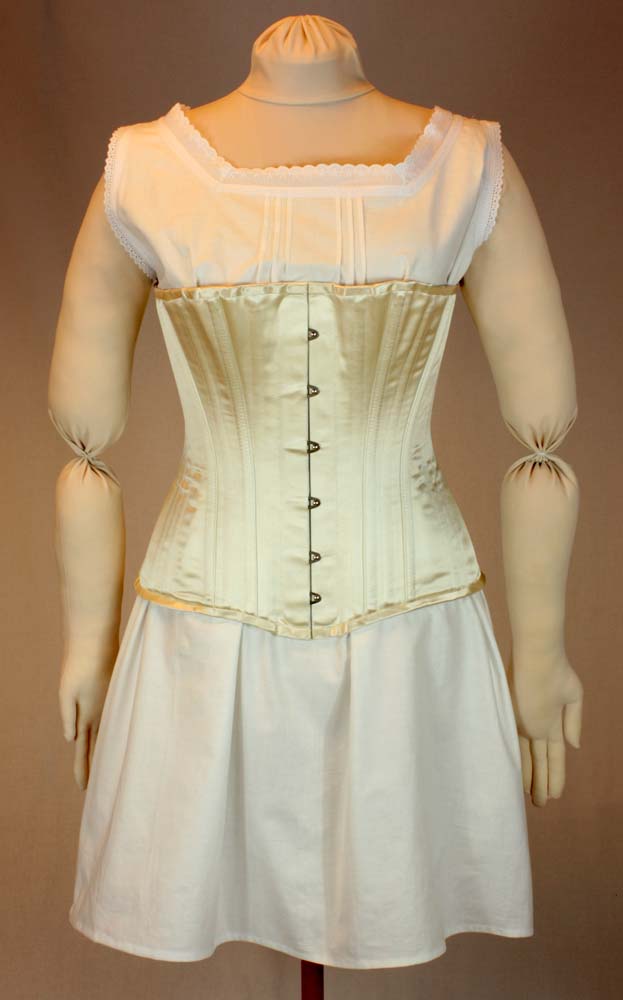 This is a sewing pattern for victorian underwear.

This Sewing pattern contains patterns for drawers, chemise, bustle and petticoat. The corset pattern is not included!
The chemise is a copy of a preserved garment from my collection and has buttoned shoulder straps to open and fold down for wide necklines.
The petticoat is designed to be worn over a bustle and can be sewn with or without a train depending on the overskirt. Two different waistbands are included. The petticoat can be left plain or decorated with lace, pin tucks and ruffles as desired.
The drawers have an open crotch seam and are tied around the waist with a twill tape. Of course you can sew your drawers with a closed crotch seam. To do so, I recommend to add about ¾" (4cm) to the top edge of the drawers while cutting. Turn in that extra seam allowance twice and make a button hole at the inside. Insert a waistband elastic into that tunnel.
The bustle is a comfortable alternative to a bustle made from spring steel for sporting activities and hot summer days. It is loosely based on an original from de LACMA.

Also suitable for steampunk costumes.

The pattern comes with detailed and illustrated sewing instructions in English and German. It is a multi size pattern, you can choose between US 8-18 (EU 34-44) and US 20-30 (EU 46-56). A seam allowance of 5/8" (1,5cm) is inculded in my patterns.

Size: EU 34-56 (US 8-30)
Yardage:
Recommended fabric:
Underwear: lightweight cotton fabric
Bustle: middleweight to heavyweigth cotton fabric like twill or denim

Yardage:

US 8-18 (EU 34-44):
Drawers: 1.1yds. 51" wide (1m with a width of 130cm)
Chemise: 2.2yds. 51" wide (2m with a width of 130cm)
Petticoat: 4.7yds. 51" wide (4,25m with a width of 130cm)
Bustle: 0.6yds. 51" wide (0,5m with a width of 130cm)

Cotton lace:
Drawers: 2yds. 2"-2 1/2" wide (1,8m with a width of 5-7cm)
Chemise: 1.5yds 5/8"-3/4" wide (1,3m with a width of 1,5-2cm ) 1.5yds 1"-1 1/2" wide (1,3m with a width of 2,5-4cm)

Cotton tape: 3yds. (3m)
Piping cord: 3yds. (3m)
Twill tape, 2 buttons

US 20-30 (EU 46-56)
Chemise: 2.4yds. (2.1m) 55" (140cm) wide
Drawers: 1.8yds. (1.7) 55" (140cm) wide
Petticoat: 5.3yds. (4.8m) 55" (140cm) wide
Bustle: 0.9yds. (0.7m) 55" (140cm) wide
C
otton lace:
Drawers 2"-2 1/2" (5-7cm) wide: 2.4yds. (2,2m)
Chemise 5/8"-3/4" (1,5-2cm) wide: 1.8yds (1,6m) 1"-1 1/2" (2,5-4cm) wide: 1.7yds (1,5m)

Insertion lace (optional):
Drawers 1"(2,5cm) wide: 1yd. (1m)
Petticoat 1"(2,5cm) wide: 4yds. (3,5m)

Cotton tape: 3yds. (3m)
Piping cord: 3yds. (3m)
Twill tape, 2 buttons