Edwardian Coat 1910 Sewing Pattern #0915 Size US 8-30 (EU 34-56) Pdf Download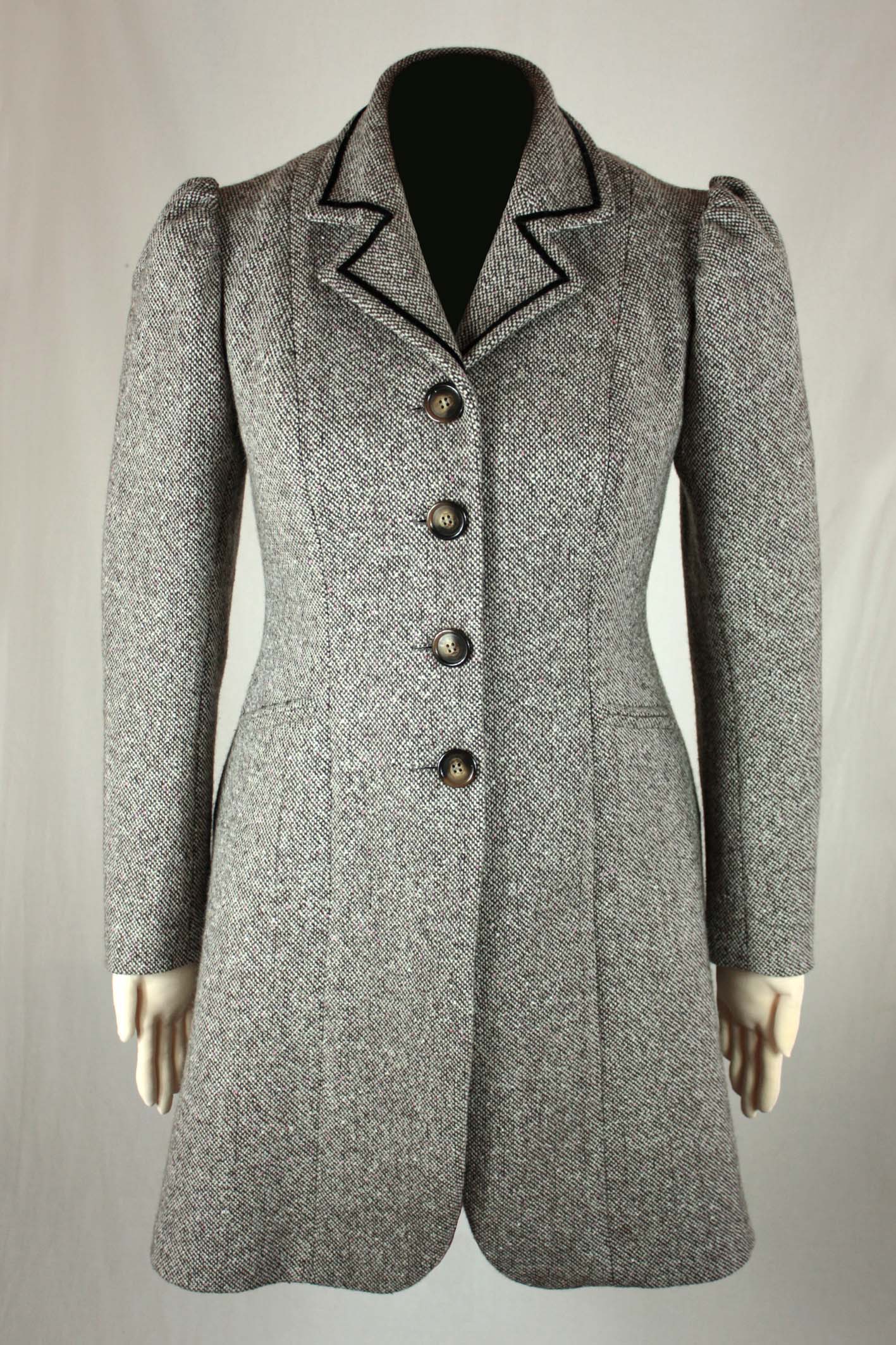 This is a sewing pattern for an Edwardian Coat.

This sewing pattern is based on coats seen in several fashion magazines published in 1908 (e.g.: "Der Bazar" – Berlin and "Wiener Hausfrau" – Vienna).
The single breasted coat has moderate puffed sleeves, princess seams and features a slim silhouette around the waist. Compared with modern coats it has a high bust point to be worn over a straight front corset. By lowering the bust point and adding some extra width at the waist, the pattern can be adapted for a modern fit without a corset underneath.
I recommend sturdy jacket and coat fabrics from wool or wool blends.
The front and collar are stiffened with hair canvas or alternatively you can use a midweight to heavy linen fabric. The canvas is pad stitched to the lapel and collar, a technique still used today in tailoring men´s jackets. If you prefer a lighter-weight fabric, not typically suitable for pad stitching, flatline with midweight cotton or silk organza. A waxed and slippery light cotton fabric as sateen was commonly used for lining coats and jackets.
The "turn of cloth" has not been allowed for when patterning the lapel but was added to the upper collar pattern piece. The pattern provides no shoulder padding.

Fitted to be worn over stays or a corset.
Also suitable for cosplay costumes.

The pattern comes with detailed and illustrated sewing instructions in English and German. It is a multi size pattern, you can choose between US 8-18 (EU 34-44) and US 20-30 (EU 46-56). A seam allowance of 5/8" (1,5cm) is inculded in my patterns.
Size: EU 34-56 (US 8-30)
Yardage:
Recommended fabric: tweed, woolen cloth, coat or jacket fabrics

Yardage:

Size US 8-18 (EU 34-44):
Fashion fabric: 3.6yds. (3,3m) with a width of 51" (130cm)
Lining: 2.7yds (2,5m) with a width of 51" (130cm)
Front canvas: 1.2yds (1.1m) with a width of 35" (90cm)
Back lining: 0,5yds. (0,5m)
4 buttons Ø 3/4" (2cm)

Size US 20-30 (EU 46-56):
Fashion fabric: 4.4yds. (4m) with a width of 51" (130cm)
Lining: 3.3yds (3m) with a width of 51" (130cm)
Front canvas: 1.6yds (1.4m) with a width of 35" (90cm)
Back lining: 0,5yds. (0,5m)
4 buttons Ø 3/4" (2cm)