Sewing Pattern Bicycle Jacket 1895 #0715 Size US 8-30 (EU 34-56) PDF Download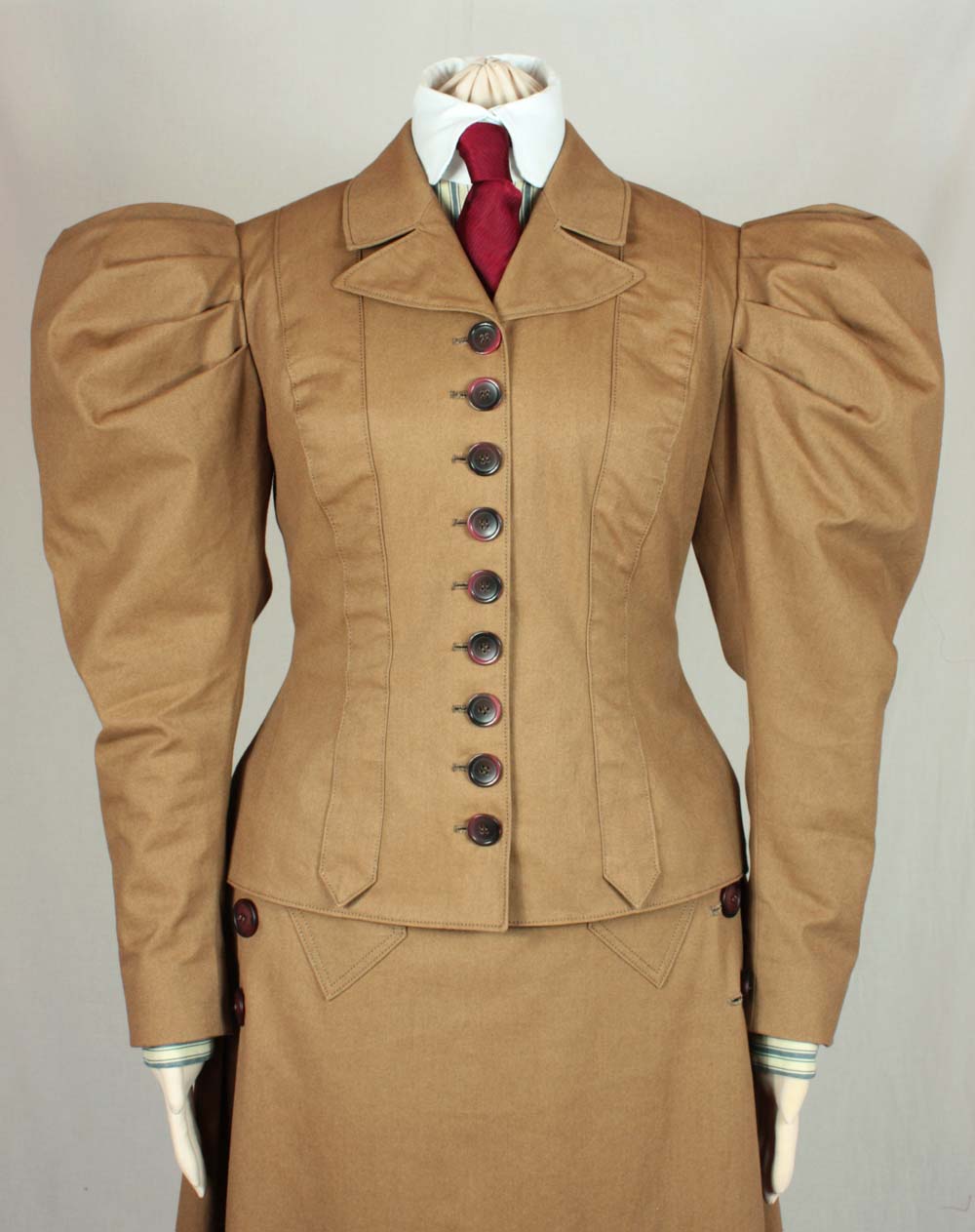 This is a sewing pattern for a Jacket worn between 1890 and 1900 for e.g. cycling.

The jacket is styled like a typical bicycle jacket about 1890, with giant sleeves, but relatively small lapels. The stripes are applied to the jacket and do not have any specific function, they just serve as a fashion detail, derived from the men´s "Norfolk Jacket", a very popular jacket that time. The jacket is cut narrow around the waist and has a peplum at the back. The jacket can be worn with our without a corset underneath.
I recommend sturdy jacket fabrics from wool or cotton, like tweed or twill.
Front and collar are stiffened with hair canvas, alternatively to hair canvas you can use a middleweight to heavy linen fabric. The canvas is pad stitched to the lapel and collar, a technique still common in sewing tailored men´s jackets today. If you´d sew the jacket from a lighter-weight fabric, not suitable for pad stitching, flatlining with middleweight cotton fabric or silk organza will serve as well.
A waxed and slippery cotton fabric was commonly used for lining jackets.
Additional width at the collar and lapel is already considered and added at the particular pattern pieces.

Fitted to be worn with or without a corset underneath.

Also suitable for cosplay or steampunk costumes.

The pattern comes with detailed and illustrated sewing instructions in English and German. It is a multi size pattern, you can choose between US 8-18 (EU 34-44) and US 20-30 (EU 46-56). A seam allowance of 5/8" (1,5cm) is inculded in my patterns.
Size: EU 34-56 (US 8-30)
Yardage:
Recommended fabrics:
Fashion fabric: tweed, woolen cloth, jacket fabrics
Flatlining: midweight (polished) cotton fabric
Lining: lining fabrics

Yardage:
Size US 8-18 (EU 34-44):
Jacket: 3,3yds. with a width of 51" (3m with a width of 130cm)
Lining: 1,4 yds with a width of 51" (1,2m with a width of 130cm)
Flatlining: 1yd. with a width of 51" (1m with a width of 130cm)
Hair canvas: 1yd widht a width of 35" (1m with a width of 90m)
9 buttons Ø 3/4" (2cm)
cotton tape 3/8" (1cm): 3.5yds. (3m)

Size US 20-30 (EU 46-56):
Jacket: 3.8yds. with a width of 51" (3,5m with a width of 130cm)
Lining: 1.8yds with a width of 51" (1,6m with a width of 130cm)
Flatlining: 1yd. with a width of 51" (1m with a width of 130cm)
Hair canvas: 1.3yds widht a width of 35" (1,2m with a width of 90m)
9 buttons Ø 3/4" (2cm)
cotton tape 3/8" (1cm): 3.5yds. (3m)