PDF Pattern #0615 Romantic Era Bonnet and Pelerine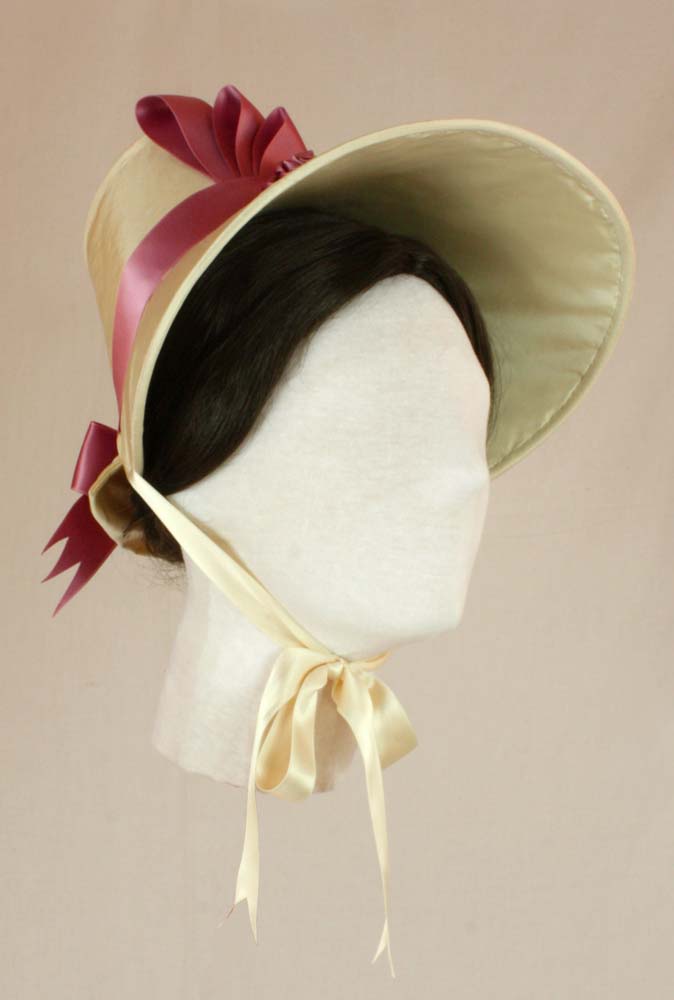 This is a pattern for a 1830´s bonnet and a pelerine or pelerine collar commonly worn over dresses.

This sewing pattern contains patterns for the bonnet and a simple pelerine collar.

The bonnet is made from buckram (a stiffened, loose weave millinery fabric) and reinforced by a frame made from round weed, this can be replaced by millinery wire if wanted. This base will be encased with felt or flannel to give the bonnet a smooth surface before it will be covered with the fashion fabric.

The pelerine collar is made from cotton or silk fabric, matching the dress.

The pattern comes with detailed and illustrated sewing instructions in english and german.

It is a multi size pattern Size S, M and L for the bonnet, sizes US 8-30 (EU 34-56) for the pelerine.


Size: EU 34-56 (US 8-30)
Yardage:
Recommended fabric and yardage bonnet:

Fashion fabric e.g. silk taffeta: 0.6yds (0,6m) with a width of 51" (130cm)
lightweight felt or flannel: 0.6yds (0,6m) with a width of 51" (130cm)
Lining e.g. fine cotton or silk fabric: 0.3yds (0,2m) with a width of 51" (130cm)
Buckram: 0.6yds. (0,5m) with a width of 35" (90cm)
Round reed or millinery wire Ø 1/8" (2-3mm): 4,3yd. (4m)
Strip of felt 22" (55cm) long 1 5/8" (4cm) wide
Ribbon 1" (2,5cm) wide: 2 yds. (1,5m); ribbon 1 5/8" (4cm) wide: 2.2yds. (2m)
Flowers, bows, ribbons, e.g. for decoration
Optional spray adhesive for fabric

Recommended fabric and yardage pelerine:

Both fashion fabric and lining (cotton or silk taffeta): 1.1yds. (1m) with a width of 51" (130cm)
Hooks and eyes