PDF Pattern #0714 Bicycle skirt about 1900 Size US 8-30 (EU 34-56)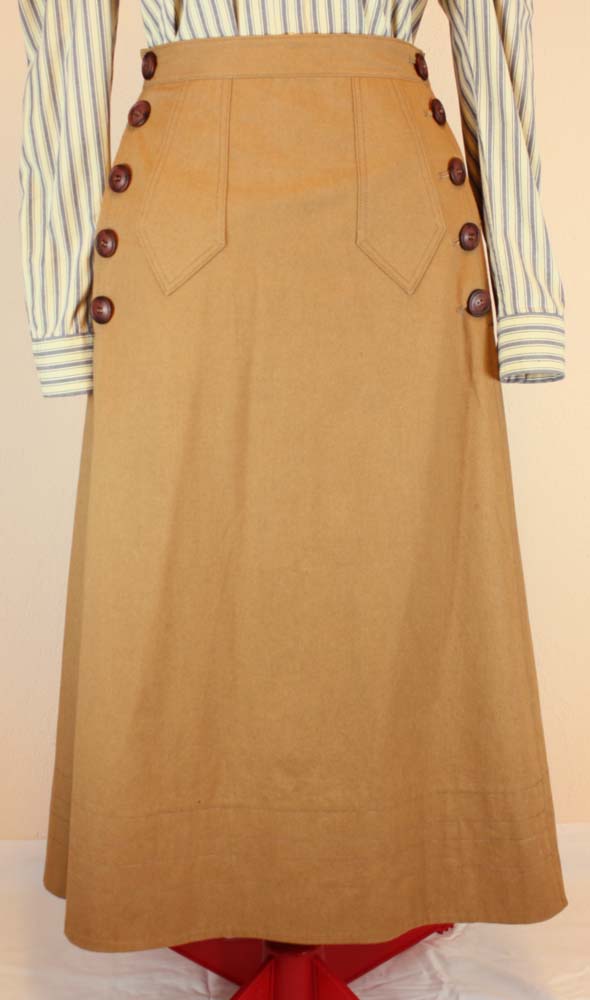 This is a sewing pattern for an Edwaridan bicycle skirt, from around 1900.

This skirt is designed after a typical extant ankle-length bicycle skirt, from around 1900.
The skirt has a deep box pleat at the center back as well as two pleats on each side providing the width needed sitting on a bicycle. The skirt can be worn with or without a corset.
The waistband is divided into two parts; front, and back. The skirt is closed along the left side with buttons, the right side button tab has no other function than serving as a fashion detail mirroring the left side with a hidden pocket underneath.
The hem has a facing from fashion fabric.
Topstitching along the skirt seams, appliques and rows along the hemline, as well as edge stitching the waistband with a thicker thread in matching color creates another fashion detail.

Also suitable for steampunk costumes.

The pattern comes with detailed and illustrated sewing instructions in English and German. It is a multi size pattern, you can choose between US 8-18 (EU 34-44) and US 20-30 (EU 46-56). A seam allowance of 5/8" (1,5cm) is inculded in my patterns.
Size: EU 34-56 (US 8-30)
Yardage:
Recommended fabrics: midweight woven (wool) fabrics

Yardage:

Size US 8-18 (EU 34-44):
Fashion fabric: 3.3 yd. 55" wide / 3m with a width of 140cm
Interlining, 10 buttons ø 1" / 2,5cm, hooks and eyes

Size US 20-30 (EU 46-56):
Fashion fabric: 4 yd. 55" wide / 360cm with a width of 140cm
Interlining, 10 buttons ø 1" / 2,5cm, hooks and eyes