PDF Pattern #0515 Day bodice early buslte Size US 8-30 (EU 34-56)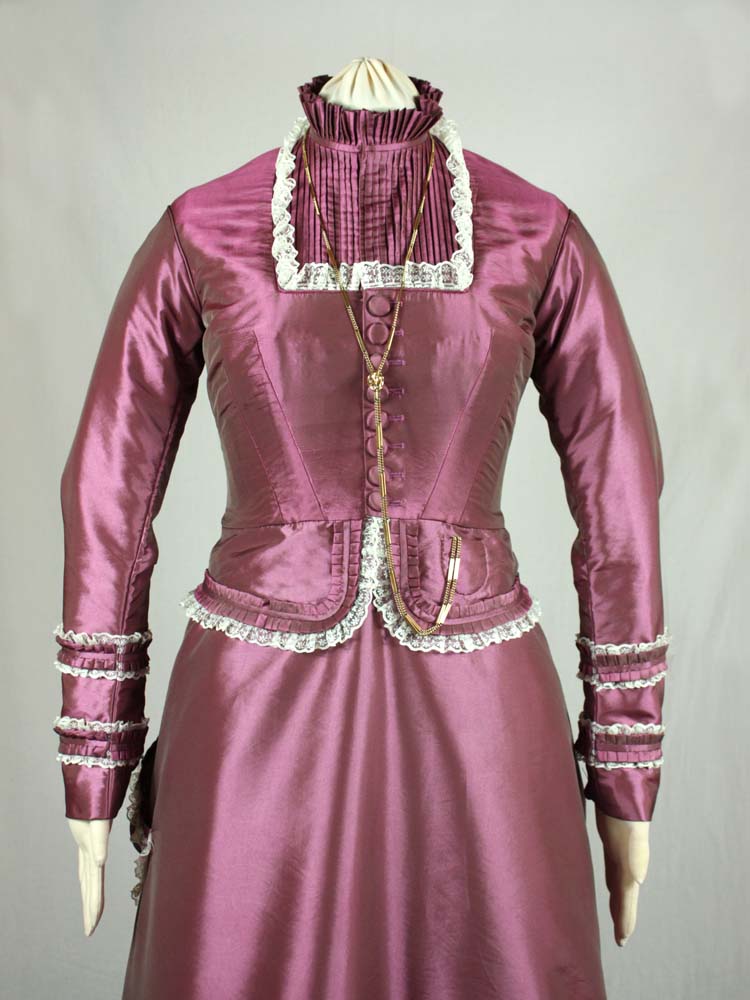 This is a sewing pattern for a Victorian day bodice of the early bustle period from 1869 to 1875.

The bodice is designed after extant garments of the early 1870´s with a high waist and a slopping shoulder line. All seams and darts will be boned. A waistband ensures a tight fit at the back, preventing the bodice from sliding up. Sleeves of the early bustle era are different compared to modern ones, wider and a bit baggy at the elbow. The sleeve in this pattern is narrower than usual that time. Top and undersleeves are cut the same shape and are inserted smoothly to a piped armhole, spreading the excess width evenly at the shoulder. A watch pocket is attached to the left front peplum.
The bodice can be sewn closed up with a narrow collar or with a squared neckline, as well as with a (reversible) front inlay.
The bodice will be decorated matching the basic skirt and apron with fringe, lace and braids.
Without the peplum at the front and a belt at the waist, the bodice would work for the late 1860´s as well.

Fits perfectly with:
#0115 Basic skirt
#0415 Asymmetric overskirt

Fitted to be worn over a corset and bustle.

Also suitable for steampunk costumes.

The pattern comes with detailed and illustrated sewing instructions in English and German. It is a multi size pattern, you can choose between US 8-18 (EU 34-44) and US 20-30 (EU 46-56). A seam allowance of 5/8" (1,5cm) is inculded in my patterns.

Size: EU 34-56 (US 8-30)
Yardage:
Recommended fabrics:
Fashion fabric: (silk) taffeta
Lining: lightweight but stiff cotton fabric

Yardage:
US 8-18 (EU 34-44):
Fashion fabric: 2.2 yds. from 52" wide fabric / 2m from 130cm wide fabric, consider 1yd. (1m) extra fabric for trimmings like shown on the title picture
Lining: 1.7 yds. from 52" wide fabric / 1,5m from 130cm wide fabric
Twill tape 1" (2,5cm) wide: 1 yd. / 1m
Lace trim 1 1/4" to 1 1/2" (3-4cm) wide: 9yds. (8m)
Fabric covered buttons Ø 5/8" (1,5cm): 14pcs.
Hooks and eyes, plastic boning or cable ties

US 20-30 (EU 46-56):
Fashion fabric: 3 yds. from 52" wide fabric / 2,7m from 130cm wide fabric, consider 1yd. (1m) extra fabric for trimmings like shown on the title picture
Lining: 2.3 yds. from 52" wide fabric / 2,1m from 130cm wide fabric
Twill tape 1" (2,5cm) wide: 1.5 yds. / 1,5m
Lace trim 1 1/4" to 1 1/2" (3-4cm) wide: 9yds. (8m)
Fabric covered buttons Ø 5/8" (1,5cm): 14pcs.
Hooks and eyes, plastic boning or cable ties