PDF Pattern #0415 Asymmetric Overskirt (apron) Early Bustle with Parasol Pocket Size US 8-30 / EU 34-56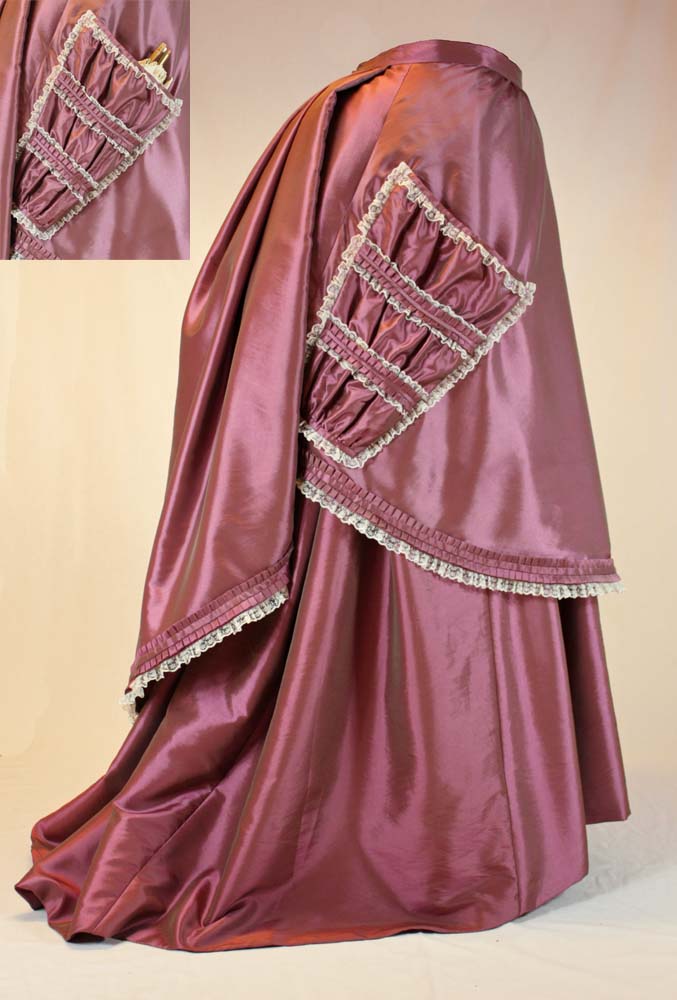 This is a sewing pattern for an asymmetric overskirt (apron) worn during the early bustle period from 1869 to 1875

The pattern shows an overskirt with an asymmetric design, popular at that time for walking and day dresses. The overskirt is pulled to the back with hidden cotton tapes and will be highly decorated with lace, braids or fringes. A highly decorated cornet-shaped patch pocket is attached to the right side as can be seen on many fashion plates of the mid 1870´s.
If you´re using a fabric with full-bodied drape, you can sew the overskirt single layered, using fabrics with a moderate drape and planning the patch pocket, I´ll recommend flatlining the whole overskirt with a lightweight, but stiff fabric like silk organza.
The overskirt closes on the left side, a placket with a width of 1 5/8" (4cm) was already considered when patterning.

Perfectly fits to: Pattern #0115 Basic Skirt for Early Bustle with loopable train

Fitted to be worn over a corset and bustle.

Also suitable for steampunk costumes.

The pattern comes with detailed and illustrated sewing instructions in English and German. It is a multi size pattern, you can choose between US 8-18 (EU 34-44) and US 20-30 (EU 46-56). A seam allowance of 5/8" (1,5cm) is inculded in my patterns.

Size: EU 34-56 (US 8-30)
Yardage:
Recommended fabrics:
Fashion fabric: (silk) taffeta
Flatlining: silk organza or a lightweight but stiff cotton fabric.
Lining (pocket + waistband): cotton fabric

Yardage:
US 8-18 (EU 34-44):
Fashion fabric: 2.2 yds. from 52" wide fabric / 2m from 130cm wide fabric consider 1yd. (1m) extra fabric for trimmings like shown on the title picture
Flatlining: 2.2 yds. from 52" wide fabric / 2m from 130cm wide fabric
Lining: 0.5yds. (0,5m) for waistband and patch pocket
Cotton tape: 1 yd. / 1m
Lace trim 1 1/4" to 1 1/2" (3-4cm) wide: 9yds. (8m)

US 20-30 (EU 46-56):
Fashion fabric: 2.7 yds. from 52" wide fabric / 2,5m from 130cm wide fabric consider 1yd. (1m) extra fabric for trimmings like shown on the title picture
Flatlining: 2.7 yds. from 52" wide fabric / 2m from 130cm wide fabric
Lining: 0.5yds. (0,5m) for waistband and patch pocket
Cotton tape: 1 yd. / 1m
Lace trim 1 1/4" to 1 1/2" (3-4cm) wide: 10yds. (9m)