At back (lacing) sew parts of coutil together with the sateen ribbon between. Open seam allowance, iron. Fold in upper and lower seam allowance of facing. Fold sateen ribbon around edge of coutil and sew like side part. Sew  tunnels, leave open upper edge.
An der Schnürung Coutilteile aneinander nähen, dabei das Band zum Verkleiden des Teils zwischenfassen. Nahtzugaben vorsichtig auseinander bügeln, die Nahtzugaben oben und unten am Futterteil nach innen bügeln. Das Satinband um den Coutilstreifen legen und wie beim Seitenteil beschrieben nähen.  Tunnel steppen, an der Oberseite für die Stäbe offen lassen.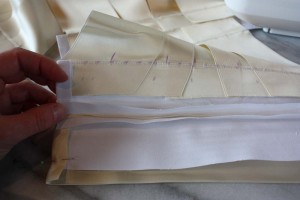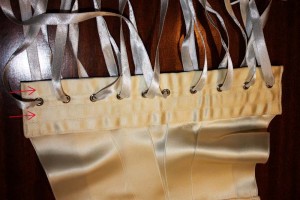 The busk part is a little bit more complicated to sew. At the right front edge mark Position for the loops. Sew front edge, skip gaps at right edge, sew along left front side without gaps.
At upper and lower edge of busk part mark end of busk, ad about 3/16″ (1/2cm) and sew with small stitches. Cut back seam allowance and turn inside out. Insert busk, at left side mark Position for the posts. Make holes with an awl an pop posts through the holes.
Die Schließe ist etwas komplizierter zu nähen. An der rechten Vorderkante die Position für die Ösen markieren, diese beim Nähen freilassen, entlang der linken Kante ohne Aussparungen nähen.
Entlang der Ober- und Unterkante ca. 1/2cm oberhalb der Schließe mit kleinen Stichen nähen, Nahtzugaben zurückschneiden und wenden. Nun kann die Schließe eingeschoben werden, an der linken Seite Position für die Haken markieren, mit eine Ahle Löcher stechen und Schließe einsetzen.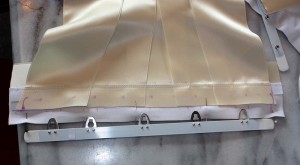 Fold sateen ribbon around coutil edge, sew like side part and lacing part. Sew busk in place, use your Zipper foot and sew as close as possible.
Satinband um die Kante des Coutils schlagen und wie beim Seiten- und Schnürteil nähen. Entlang der Schließe mit dem Reißverschlussfuß schmal absteppen.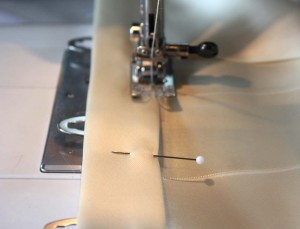 At back part mark Position for the grommets and insert them. Insert boning, close upper edges. Insert lacing.
If your corset hits you at the breast bone sew a little pad and fix it with some stitches at the upper edge of the busk. Finished!
An der Schnürung Position für die Ösen markieren und Ösen einschlagen, Stäbe einschieben und entlang der noch offenen Oberkanten absteppen. Schnürung einfädeln.
Sollte das Korsett im Bereich des Brustbeins etwas drücken einen kleinen Polster nähen und mit einigen Handstichen an der Oberkante der Schließe fixieren. Fertig!